I Enjoy Kissing in………Femi Ogedengbe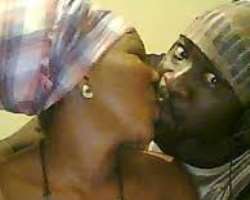 Nollywood actor cum director, Femi Ogedengbe, has revealed that challenges faced in the movie industry is about trying to do things out of the ordinary like trying to pull stunt which life is involved.
According to him, kissing and baring it all in movies should not be seen as a challenge because to him, it is something he enjoys doing.
The actor who was once rated as the best stunt actor in Nollywood, disclosed that one of the challenges he has faced in the industry was when he jumped from a very high bridge in the movie 'Desperado' without a suspending rope and when he landed, he got himself injured and was rushed to the hospital.
Speaking about his love for movie, the actor explained that he began watching the Indian movies at an early age and because of his love for the movie, he goes as far as stealing 50kobo then just to go watch an Indian movie.
Explaining his choice for movie directing, Femi said he just felt he needed to try his hands on something else and as such, went online to read and download books on directing just to get more tips on how movies are being directed.