Femi Otedola, Nigeria's oil Sheik makes Forbes cover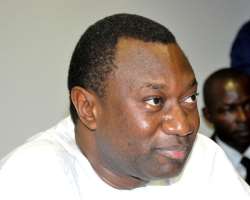 The year 2014 will mean several things to one of the Nigeria's richest oil sheiks, Chief Femi Otedola. In life change is constant. Not quite long ago, he was in a mourning mood when he lost his father and former Governor of Lagos State, Chief Michael Otedola but not long after that, Femi is up with smiles as his wallet is getting deeper and deeper. To attest to that is his recent ranking by the prestigious Forbes Magazine as one of the 50 richest Africans, he dotted the Magazine's Africa's November 2014 cover page with his traditional dazzling white attire. A superficial look at his posture will attest that he has put the sorrow behind him and has moved on and up the ladder of wealth acquisition. It was reported that Otedola became at least $398 million richer between March 3 and June 2 this year as shares of his company, Forte Oil PLC, a Nigerian Stock Exchange-listed energy distributor, surged 167% in that period. No wonder why Forbes describes him as 'The Billionaire Who Bounced Back'. Otedola briefly featured on Forbes' billionaires list in 2009 but dropped out of the rankings shortly afterwards when shares of his African Petroleum (now called Forte Oil) plunged more than 80% in the wake of economic meltdown.
He became the largest shareholder in Forte Oil (formerly called African Petroleum) in 2007 when he acquired a 28.7% stake in the company from the government-owned oil company, the Nigerian National Petroleum Corporation (NNPC), for $120 million. He subsequently appointed himself as chairman of the company. Otedola, 47, has gobbled up additional shares over the years and now owns more than 40% of the $1.5 billion (Market Capitalization) company.
Otedola is listed on the Forbes list of the 50 richest Africans with a fortune estimated at $410 million in November, 2014. With the recent surge in Forte Oil shares, his net worth is well over $800 million. If Forte Oil's stock continues its upward trend, it might not be long before Otedola regains his dollarised billionaire status.
His company, Forte Oil PLC is primarily engaged in the distribution of petroleum products such as diesel, aviation fuel and Premium Motor Spirit (PMS). The company has over 500 company-owned, dealer-assisted and dealer-developed gas stations spread across the country, oil storage depots in Lagos and Rivers states, a Power plant and a Joint User Hydrant Installation facility in Lagos. The company also sells its own range of automobile lubricants. On March 3, the company's stock was trading at N88.4 ($0.55), and months down the line, its share price peaked at N235.79 ($1.46).
Financial analysts are of the view that the recent unprecedented demand and surge in Forte Oil's shares may not be unconnected to the company's recent inclusion in the Morgan Stanley MS +1.18% Capital International (MSCI MSCI) Frontier Market 100 Index. As listing in such indexes usually attracts interest from global investors who track these companies.
According to an industry source, he currently owns 436,809,537 shares valued at N103 billion ($635 million). He pocketed at least $11 million in dividends from profits made by his company in February as Forte Oil paid shareholders a dividend of N4 ($0.0023) per ordinary share from its 2013 profits.