2015: Kwankwaso formally joins presidential race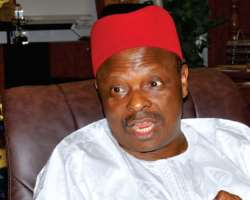 The All Progressives Congress (APC) presidential aspirant and Kano State governor, Rabiu Musa Kwankwaso, yesterday formally declared his bid for the presidency in the 2015 poll, maintaining he has the wherewithal to tackle the multifaceted problems bedeviling the country.
  Kwankwaso, whose second term of four years as chief executive of Kano State ensured tens of thousands of his supporters from across the country thronged the Old Parade Ground venue of his declaration, listed corruption as an area that he would focused on if elected into office as president of the country. 
  Noting that the APC has what it takes to toss out the People's Democratic Party-led federal administration, he said: 'Change, positive change, is possible. Change, progressive change is doable, and we are the agents of this change. We are the Change! We should not only make it possible, we must make it achievable. Yes, we must,' he said, noting: 'APC that has what it takes not only to stop this misrule of the PDP but also to reverse the stinking rot and decay that is suffocating our country. Our party is the only party that is built with Nigeria and Nigerians in focus. This is expressed succinctly in the ten commitments of the APC and also encapsulated concisely in the mission statement of our party.
  'We are the only party that practises internal democracy that believes in equal rights, values our cultural diversities, respects our religious varieties, abides by the rule of law, and believes in free and fair election as the only lifeline for sustaining democratic legitimacy.'
  Lamenting the state of decay in the polity, Kwankwaso said inter alia: 'Every facet of our national life is deteriorating: governance has been reduced to mediocrity; incompetence and impunity. I have no doubt in my mind that this journey is difficult and arduous. I have no illusion about the enormity of the challenges. But to save our country, we must walk the journey, however, difficult and must confront to defeat all the challenges, however, monstrous. Yes, we must!
  Among dignitaries at the occasion held at the old parade ground in Abuja were Governor Babatunde Raji Fashola (Lagos), Abdulaziz Yari (Zamfara), Rotimi Amaechi (Rivers), former governors Kayode Fayemi (Ekiti), Abubakar Audu (Kogi), senators Chris Ngige, George Akume, Senate Minority Leader and Abubakar Baraje. - Guardian.