Ogun, Bayelsa, three others to get airports – Chidoka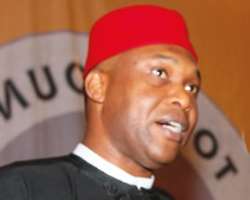 To ensure easy movement of passengers and cargoes across the states, five domestic airports will be constructed in the capital cities of Bayelsa, Kebbi, Kogi, Nasarawa and Ogun states, the Federal Government has said.
The Minister of Aviation, Mr. Osita Chidoka, who disclosed this in Abuja on Monday, said that work on the new airports would soon commence, adding that the plan was in line with the Federal Government's strategy of linking the states together and establishing cargo terminals across the country.
Chidoka made the announcement at the headquarters of the Federal Ministry of Aviation while hosting the Kogi State Governor, Capt. Idris Wada.
'Lokoja, being a historic town with different artefacts, has the capacity to serve as a tourist attraction that can generate a lot of revenue for the government.
'So, we are going to work with the Kogi State Government in the construction of the airport to attract investments to the state,' he said.
According to the minister, the proposed airports will further enhance the establishment of cargo terminals for the export of agricultural produce as well as increase Nigeria's value addition capabilities.
Chidoka said the Federal Government was willing to collaborate with the five states in working out the details to ensure seamless construction of the airports in the capital cities.
In his remarks, Wada noted that Kogi State was interested in establishing a world class airport that would be the agricultural hub for the North Central.
The governor said he was at the ministry to seek the Federal Government's collaboration on the construction of an airport in the state.
Wada said his state was into the production of several agricultural produce and the establishment of an airport in Kogi would enhance its export potential, adding that his government planned to work with private investors in joint ventures for the construction of the airport.