Prevent This Strike Now!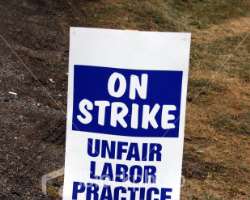 The NANS President, Tijani Usman Shehu has called on the Federal Government to prevent the planned Academic Staff Union of Polytechnics (ASUP) strike.
It will be recalled that the Academic Staff Union of Polytechnics (ASUP) has issued a 21-day ultimatum to the federal government to address the issues raised by the union, including the continued delay in the re-negotiation of federal government/ASUP agreement, or have all the polytechnics in the country shut down indefinitely.
Failure to address these issues by the federal government may results into using students as political thugs by politicians, as we approach election year.
Many of these students would now have time to fully engage in social vices such as prostitution, cultism, kidnapping, armed robbery, fraud and many others in order to while away time as well as make illicit money.
The disruption of studies of the students will also have negative psychological impact on them. By the time the strike is over, many of the students would most likely have forgotten what they were taught before the unwarranted break.
The National Association of Nigerian Students (NANS) therefore calls on the Federal Government to address the issues in contention viz:
1. Implement the 65years retirement age in some polytechnics and monotechnics;
2. Implement the reviewed Scheme of Service and CONTISS 15 as they affect the lower cadre as demanded by the union;
3. Direct the management of various institutions to immediately reinstate the disengaged academic staff;
4. Remove the bureaucratic bottlenecks and discrimination associated with accessing TEFfund's sponsorships and grants
Signed
Tijani Usman Shehu