Fayose accuses Fayemi of leaving large in gov lodge while masses walloped in poverty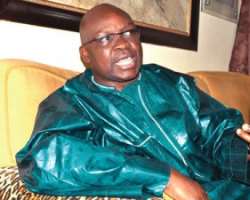 The Ekiti Governor, Ayodele Fayose, on Monday accused the ex-Governor Kayode Fayemi of leaving large in the N3.3bn worth Governor's Lodge while the msses he was ruling walloped in abject poverty.
Fayose spoke while administering the oath of office on the newly appointed Secretary to the State Government, Dr. Modupe Alade, and other special assistants in Ado Ekiti.
'My heart nearly failed me when I got to the new Government Lodge on Thursday. The mansion cost N3.3bn. It was initially awarded for N2.3bn and later increased to N2.7bn, while a sum of N640m was used to procure fittings and furniture.
'And this building will cost a sum of N150m for maintenance annually. Ekiti cannot sustain this and we have to do something about it. How can a governor be living in such a house when the masses are living in abject poverty,' he asked?
Fayose however,  assured that his administration would ensure strict compliance to the 35 per cent affirmative action for women in government in consonance with the Beijing Declaration of 1993.
He said that the appointment of Alade underscored the enormous respect he had for women, pledging that his government would protect them and allot more appointments and elective positions to them during the 2015 state and federal legislative polls.
'Let me tell the men here who are politicians to know that some of them will be asked to step down for women in the next year's elections.
'I want to assure you that those that will step down have nothing to lose, we are going to reward you accordingly. But if you disobey us, we will still go ahead and do it so far what we are pursuing is in the interest of the Ekiti people," he stated.