Falling oil prices pose challenges for Nigeria - Emefiele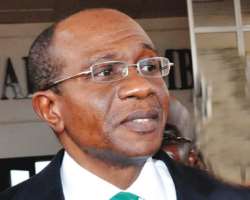 The Governor, Central Bank of Nigeria, Mr. Godwin Emefiele, has said the current decline in crude oil prices globally presents some risks to the country.

Global oil prices are down around 25 per cent to $86 per barrel from $112 in June this year, putting pressure on oil-exporting countries, including Nigeria.

Emefiele, who spoke at the 2014 investiture of the Chartered Institute of Bankers of Nigeria in Lagos on Saturday, however, said efforts were being made by the relevant authorities to ensure that the country remained strong and healthy.

He said the central bank would continue to build and maintain a healthy external reserves position by improving accretion to the reserves through fiscal buffers and continue to insist on fiscal discipline.

'We expect the naira to remain strong and give foreign investors the clarity to guide future investment decisions,' he said, adding that in the area of financial system stability, the CBN hoped to sustain the effective management of potential threats and avoid systemic crisis.

He said fiscal deficits had continued to decline from 1.4 per cent of the Gross Domestic Product in 2013 to a projected 1.03 per cent in 2014 and 0.99 per cent in 2015.

'I am aware that crude oil prices are dropping and no doubt this presents some form of challenges to Nigeria. I can assure you that the fiscal and monetary authorities are taking action to ensure that we take steps that will enable Nigeria to withstand the shocks that we see,' he said.

Emefiele, who was conferred with the honorary fellowship of the CIBN, added, 'A number of actions will be unveiled; in fact, some have already been unveiled and more will be unveiled in the next few weeks by both the monetary and fiscal authorities to ensure that Nigeria continues to remain strong and healthy to be able to support growth and development.'

Noting that the country had become a leading destination for Foreign Direct Investment in Africa, he said Nigeria had received direct investment of over $67bn since the return to democratic governance between 2000 and 2013, compared to an average of $41.5bn in the 1990s.

'Despite this impressive and consistent investment inflows, the myriads of inherent opportunities for high returns in the Nigerian economy remain largely untapped,' he said.

The CBN governor further said that with a Gross Domestic Product of over N80tn, average growth rate of about five per cent between 2010 and 2013, and economic expansion that was being driven by the non-oil sector, it was obvious that the Nigerian economy was not only growing, but was diverse with opportunities across multiple sectors such as services, e-commerce, arts and crafts, manufacturing, entertainment and agriculture.

Emefiele said countries around the world must compete for investments by creating enabling environment to attract such. Punch