Eagles will pick AFCON ticket, Amodu assures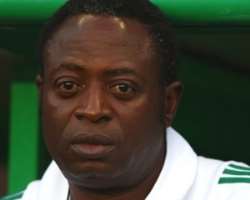 Shaibu Amodu, newly appointed Super Eagles Head Coach, said on Sunday that there was no cause for alarm in Nigeria's chase for the 2015 Africa Cup of Nations ticket.

A statement issued in Abuja by Ademola Olajire, Assistant Director of the Nigeria Football Federation, quoted Amodu as assuring Nigerians that the Super Eagles will qualify for AFCON 2015.

'We have done it before; we will do it again.

'If Congo can come here and score three goals, nothing stops us going to Congo to score three or more goals,' the statement quoted Amodu as saying.

In April 2001, then NFF sacked Dutchman Johannes Bonfrere with Nigeria's 2002 FIFA World Cup qualifying ship in troubled waters.

They brought in Amodu, with Stephen Keshi and Joe Erico as his assistants.

Nigeria needed to win all its last three matches of the campaign to be sure of a place in Korea/Japan.

Amodu led the team to turn back Liberia 2-0 in Port Harcourt, hammer Sudan 4-0 in Omdurman and dismissed Ghana 3-0 in Port Harcourt to qualify for the World Cup.

Amodu faced the same challenge in November 2009, when the Eagles needed to defeat Kenya in Nairobi and hoped Tunisia did not win in Mozambique to reach the 2010 FIFA World Cup finals in South Africa.

The Eagles won the match 3-2 and qualified for the Mundial.

As for the South African challenge, Amodu led the team to beat South Africa home and away in the preliminary race for the 2010 FIFA World Cup. NAN