GOV AKPABIO DEFIES PDP TO ENDORSE UDOM AS ESD SOLE CANDIDATE
…The Nduese Essien Reception, Paul Ekpo, Assam Assam Connection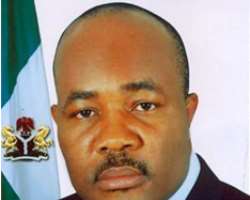 In defiance of the order of the Peoples' Democratic Party (PDP) for Governors and State Party Chapters not to openly endorse aspirants for elective offices, the Akwa Ibom State Governor, Chief Godswill Akpabio, has directed his succession plan anchor organization, the Akwa Ibom Consolidation Alliance (ACA) to organize a greater Eket Senatorial District Endorsement Rally for his preferred and anointed Governorship candidate, Udom Emmanuel.
The function which is scheduled to take place on Tuesday, October 14, 2014, at the Eket Township Stadium, Eket, is to be a good rally where speakers from the 12 local government areas of Eket Senatorial District will be paid to say they want Udom, the Secretary to the State Government (SSG), as their sole candidate.
Prominent among those to address the rally are former Minister of Lands and Housing, Chief Nduese Essien, who has been actively involved in the Obong Umana Okon Umana and Obong Nsima Ekere aspirations before the Governor 'bought' him over for Udom with nomination to the just concluded National Conference.
Chief Essien, also a former House of Representatives' member, was on Saturday, 11 October, honoured by Eket nation as a counter to the reception and honour given former Governor Obong Victor Attah by the Ibibio people.
The function, which was instigated by Governor Akpabio had spent N50million for its hosting to show that Eket people are not Ibibio and should not be under Obong Attah's command.
Chief Essien, who is seen as a very inconsistent character, is recently leaning on Governor Akpabio to regain his lost glory.
Previously, he campaigned vigorously for Obong Nsima Ekere to be Governor 2015 and also mandated his subjects to do same.
Another speaker will be Nigeria's Ambassador to Russia, Ambassador Assam Assam, whom Governor Akpabio boasted to have recently given N100million to support his succession plan.
Governor Akpabio reportedly told him that he will be his Plan B in case Udom is still not marketable at the end of the day, this mouth watery gift triggered Ambassador Assam who recently ate his words by calling Governor Akpabio the best performing Governor after branding him a non-performer and an experience killer earlier in the year.
Benji Udobia, a known contractor and businessman, who is also going to be a speaker at the rally, will address on behalf of Esit Eket.
The State Chairman of PDP, Obong Paul Ekpo, who has been attending all ACA functions, will speak on behalf of PDP.
Sources say if he is not present, he will send his deputy, Hon. Nse Ekpenyong from Oron, to address the rally on his behalf.
The plan of the organizers is to make sure that no other aspirants in Eket is seen as strong as Udom.
Political watchers, however, see the rally as another noise making venture of the Governor.
According to one of them, "Primaries is not about rallies. Let Udom come to the primary and defeat others for us to see. It is not about noise making rallies. Those behind him are just there to eat government money, including Assam Assam and Nduese Essien."
CULLED FROM EDIDIONG SIMON FACEBOOK TIMELINE.