Boko Haram breaks ceasefire agreement, attacks Borno villages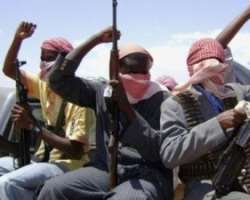 Less than 24 hours after the much-publicised ceasefire deal reached by the Federal Government and the Boko Haram sect, the terrorist group attacked two communities in Borno State, a security source told SUNDAY PUNCH.
The Nigerian government had announced on Friday that the Islamic sect and the military had agreed to a ceasefire.
According to the military source, about 20 Boko Haram fighters in two pick-up vans stormed Maikadiri in Abadam Local Government Area, northern part of Borno on Friday evening, shooting into homes.
A member of the local vigilance group, Adam Kolo, in a telephone interview with our correspondent in Maiduguri on Saturday, said the sect had shown that there was no ceasefire with the latest attack.
He stated that the insurgents killed the father of the former Speaker of Borno State House of Assembly, Goni Ali-Modu.
Another indigene of the attacked communities, Masta Ibrahim, said in Maiduguri that, 'My parents are there and my brother called from Monguno to inform me early this morning but we couldn't get across to our aged parents.'
Also in a renewed attack on Shaffa, Hawul Local Government Area, south of Borno on Saturday morning, scores of Boko Haram insurgents rode to a village near the town in the early hours of the day, shooting indiscriminately.
Eight people were killed, according to a resident, Elijah Msheliza.
He told our correspondents that many of the residents of the town had fled into the bush.
Msheliza said, 'There was pandemonium in Shaffa as Boko Haram invaded the nearby village, shooting at everybody at sight. We had to flee into the bush and, as I am talking to you, many of us are taking refuge in the bush.'
Shaffa is about 230 kilometres from Maiduguri, the state capital, and had recently witnessed series of attacks by the insurgents. Punch