Let's Think & Talk With Alex O. Atawa Akpodiete: Rented Crowds: The Fallacy Of Democracy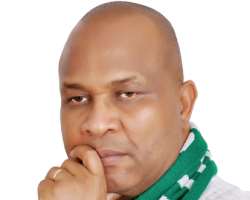 Last week when I commented on Imposition of Candidates as the death knell of democracy and also on the topic of readiness of Delta State for a female Governor, several people called or sent me SMS, but positively and negatively. Article 39 of the 1999 Constitution of Federal Republic of Nigeria grants everyone freedom of expression and it is good for democracy.
Specifically, Section 39 (1) states that "Every person shall be entitled to freedom of expression, including freedom to hold opinions and to receive and impart ideas and information without interference." Nonetheless, castigation of aspirants (myself included) is not constructive criticism, albeit an exercise of your freedom of speech.
Another freedom that the constitution grants every Nigerian citizen is freedom of association. Section 40 of the same Constitution provides that every Nigerian "shall be entitled to assemble freely and associate with other persons, and in particular he may form or belong to any political party, trade union or any other association for the protection of his interests."
During this heightened political season, many people are associating with politicians or is it politicians associating with people. One of the means of this association is through rented crowds. At a recently concluded political rally held in a neighboring state, several aspirants were there with large crowds. When the rain started falling, a guy ran under our umbrella. When confronted he said "all of us na de same, if APGA bring food and money, we go join and chop." He was clearly lost from "his" group and further inquiry revealed that he had been "mobilized" by the agent of an aspirant that he had never met.
PDP & APC trading allegations of use of rented crowds
There is clear distinction between interest groups that support an aspirant based on his or her ideology and a group of people put on a bus for a fee, just to come to a political gathering, ostensibly to create the appearance that the person has a great following, when in actuality it is another example of stomach infrastructure.
A positive way to look at these rented crowds is from the viewpoint that it is a means of employment, after all ushers are hired by event planners to provide services at weddings/conferences etc. In fact, the rented crowds tend to make a lot of noise, even more than the actual supporters. I am not sure if it is a performance to try and get a return call or just an honest attempt to make sure they have earned the money paid, not matter how meager.
In the American movie industry, "extras" are paid a fee to appear in movies. They are usually not famous actors, but people looking to eke out a small living or just boast to friends that they were in a movie. So, those you see in the background of many Hollywood films earn a daily fee regulated by the union. Maybe we should unionize rented crowds, especially based on the exploitation of workers through excessive casualization. One can earn a reasonable income as a contractor of rented crowds for political gatherings. The aspirants will come to you and you tell them how much you will charge per head. It is your business how much you end up paying those you have rented based on your calculated profit margin. It is simple entrepreneurship. Of course some youths are getting smarter by the day and probably have an idea what the going rate for daily political work, just like their day laborer counterparts on the streets of most major cities. Four years ago, I was an ad hoc staff during one of the elections. I overheard a youth screaming at his handler that the money paid him was less than he heard was supposed to be given for each member of the group.
Prior to the Osun governorship election earlier this year, PDP National Publicity Secretary, Olisa Metuh commented on a rally by saying, "Nigerians are aware that at the rally was a crowd mobilized from other states to join APC officials who were forced to relocate to Osun to create an impression of massive support for the party and its candidate."
However, the allegations are not one-sided. Sahara Reporters recently reported that "The Transformation Ambassadors of Nigeria, TAN, a group passionately campaigning for a second term for Nigeria's President Goodluck Jonathan, has been hit by allegation of fraud, with some members of the group accusing it of staging a crowd in support of the president and refusing to pay them as agreed."
Some month back, I wrote against the use of youths for political violence and as thugs. Rented crowds, as long as they are not involved in violence, can be a way for youths to get exposed to the political process. That notwithstanding, no one is renting these crowds because they want to mentor our unemployed youths or school them on the finer points of politics. It is essentially to obfuscate the actual popularity of the aspirant.
One of my favorite authors, Late Chinese Chairman Mao stated that "It is necessary for intellectuals, students, soldiers and the average peasant to pay attention and involve themselves with political work." Although a communist, he is also credited with saying that Democracy and honesty play roles in the reform of a nation.
So, do not be fooled. The next time you see a mammoth crowd chanting after an aspirant, it may not be a true reflection of the politician's popularity. Think about it!
Rev. Akpodiete, a public affairs analyst writes from Asaba. He is also an aspirant for Udu/Ughelli North/Ughelli South Federal Constituency in Delta State. Contact him on 08138391661 or [email protected],
2014-10-18 235347
Disclaimer:

"The views/contents expressed in this article are the sole responsibility of the author(s) and do not necessarily reflect those of The Nigerian Voice. The Nigerian Voice will not be responsible or liable for any inaccurate or incorrect statements contained in this article."
Articles by Prof. Alex O. Atawa Akpodiete, Esq.