2015: Delta Guber race gets keener as Obuh picks form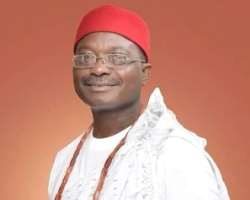 The National Organising Secretary of the Peoples Democratic Party, Alhaji Abubakar Mustapha has said retired Civil Servants are more experienced to govern the states of the Federation just as the former Permanent Secretary in Delta State Government House, Sir Tony Obuh picked his Expression of Interest and Nomination Forms at Wadata House, Abuja, Friday.

Abubakar Mustapha yesterday clarified that the party is not against retired civil servants contesting elective offices, stating "Indeed, they are most qualified because of their wealth of experience."
He told Obuh that because of his background that he is most qualified to contest for the office of governor of Del‎ta state. He said the party will provide a level playing field for all aspirants.

‎Speaking when he obtained his Expression of Interest and nomination forms, Obuh said, "I have come to establish the first great step and my decision to serve my people in the position of a governor. I here to tell my party that I am serious about what they may have been hearing, seeing and reading in the media that Anthony Obuh is a candidate that is seriously pursuing the first class seat to serve as the governor of Delta state.
"As you may be aware, Delta is doing a programme called 'Delta Beyond Oil' and what the programme represents is a philosophy that wants to diversify our economy. A philosophy that want to explore new areas for wealth generation, we want to look into new areas for industrialization, for employment, instead of concentrating on oil, Oil is a product that will finish one day, it will finish and we are preparing our economy to grow on other sectors," he said.
On the allegation that he is been imposed by the governor, Obuh said, "‎ I wish that was true, indeed, I am praying and working hard that not just the governor but the entire Delta state people should endorse me and make me their candidate of choice. Nobody has come to tell me that the governor has endorsed me, sponsored me or made me his candidate.
"The governor has not told me so but nevertheless, I have continued to receive endorsement from across the state, different segments of the delta society, women, men, elders, youths; they have been sponsoring my campaign. People print posters, banners, shirts, caps, and I have not spent a kobo doing any of that.
"People have been endorsing me and they have continued to spend their money to propagate our philosophy. I think our strength is the support we have from our people, in any case, we will pursue it to see whether the governor will endorse us because that will make us happier.
"I am from Delta North, one of the three Senatorial districts of delta state, I am not contesting the election just because I am from Delta North, I am contesting because I have something going on for me in terms of understanding and affiliation of the needs and aspirations of the people across the state. I am standing on the platform of the three Senatorial District; I am a candidate for Delta State."
On how long he has been a member of PDP, he said, "I have been a member of the PDP because the later years of my service, I was a permanent secretary. I served as the Permanent Secretary for 8 years and by virtue of that appointment, I held a political appointment which makes it free for me to be a member of any party of my choice. I was a registered member of the PDP even if I was not mounting the soapbox. I have been a member of the party since 2001″