FG, Boko Haram may reached cease-fire deal - VOA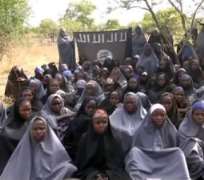 Islamist militant group Boko Haram and the federal government may have reached a cease-fire deal, the Voice of Nigeria, VoA, quoted President Goodluck Jonathan's Private Secretary, Alh. Hassan Tukur, as disclosing.
He spoke to the VoA in Saudi where the talks which are being brokered by officials of Chad and Cameroun are taking place.
The cease-fire is expected to result in the release of the remaining 219 Chibok female students abducted from their school more than five years ago and indeed girls and women abducted from other communities in the course of the five-year deadly insurgency, said to have killed over 12, 000 people.
According to the international radio, a man calling himself the Secretary-General of Boko Haram, Danladi Ahmadu, told VOA on Thursday that Chibok girls 'in good condition and unharmed.'
The report said that Boko Haram did not elaborate on the conditions under which the girls would be freed and that authorities on Saudi Arabia were not involved in the negotiations. Agency report