Mutiny: Army bans media coverage of court martial proceedings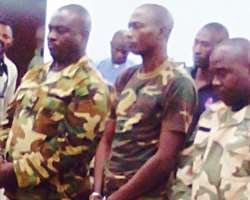 Following concerns that publication of operational details of the ongoing war on terrorism will fall into the hands of Boko Haram terrorists and expose troops to danger, the Nigerian Army yesterday, barred journalists from further coverage of the proceedings of its General Court Martial.
The military court commenced sitting on Wednesday, at the Army Headquarters AHQ Garrison, in Mogadishu Cantonment Abuja where 97 soldiers are to be arraigned for various offences of mutiny, conspiracy to commit mutiny amongst others.
At the inaugural sitting, the arraignment of 59 soldiers on two counts charge of conspiracy to commit mutiny and mutiny, where they all pleaded not guilty enjoyed very wide media coverage.
However, when journalists appeared again in court yesterday, for the continuation of the trial, they were sent out of the court midway into the proceedings.
At about 10.00 am when the second prosecution witness (pw2) in the case, who is second in command to the Commanding Officer, 111 Special Forces Battalion, Lt-Col Timothy Opulum, PW1, commenced giving evidence, a plain clothed officer went round the court whispering to journalists that an 'officer outside wants to see you.'
Outside the court room, spokesman of the Garrison, Colonel Aliyu Yusuf,  however addressed the journalists appealing that the Army would send invitations across to them whenever the time was right.
Colonel Yusuf appealed for understanding, noting that the need to promote national security, had informed the action.
During the court proceedings on Wednesday, there were serious issues of national security bordering on military operations that were raised and considered in the open court, which was  said to be putting ongoing operations in the North East at risk.
At a point, during the proceeding, the GCM President, who became apparently uncomfortable with the revelations of military strategies, had to stop the witness and the counsel from delving into military operations that might endanger national security.
It will be recalled that the last court martial in the AHQ Garrison carried out a discreet trial of 18 soldiers accused of mutiny.
Newsmen were only invited on the day judgement was to be delivered where death sentence was passed on 12 of them by the GCM on September 15.