I Can't Support Your Presidential Ambition, Mark Bluntly Tells Kwakwanso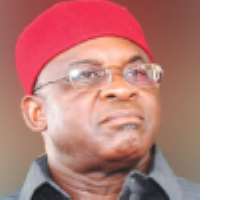 ….As Governor Seeks APC Consensus Candidate
SAN FRANCISCO, October 16, (THEWILL) - President of the Senate, Senator David Mark, Thursday bluntly told the Kano State Governor and All Progressives Congress (APC) presidential aspirant, Engr. Rabiu Kwakwanso, that he (Mark) cannot support his presidential ambition on the platform of the APC.
This came as Kwankwaso called for a consensus arrangement in the selection of APC presidential candidate for the 2015 election.
Senator Mark, who made this disclosure when Kwankwanso paid him a courtesy call at the National Assembly Complex to solicit his support for his aspiration, said 'it is completely impossible for me to support you.  Good as your wishes may be, I can't grant them.'
According to the President of the Senate, 'the Peoples Democratic Party (PDP) is the correct platform to contest election and I have always advised the Senators so. If you don't make it in your new party, feel free to come back to us because you have always belonged on this side.'
Mark however advised politicians to 'play politics without bitterness because God gives power to whom he wants and at any time He wishes.'
Earlier, Kwankwanso, who described Mark's leadership of the National Assembly as 'powerful and responsible', said that though he was yet to formally declare his interest in the presidential race, he was in the National Assembly to see the President of the Senate, members and other officers of both chambers as part of his consultations.
'As a member of the extended family of the National Assembly, you will have little or no option other than to support your own,' he told Senator Mark.
He noted that as part of APC support for the National Assembly, it is making 'a special consideration' for members to return to the National Assembly, noting however that the party is not offering automatic tickets.
In another development,  Kwankwaso called for a consensus arrangement in the choice of his party's presidential candidate.
He told his party's caucus in the Senate that the APC has a place for a consensus arrangement in the party and for primary elections and personally called for a consensus arrangement.
That notwithstanding, he noted that primary election is also good for the party.
The Kano State governor was received by the APC Senate Caucus led by Minority Leader, Senator George Akume, in the Upper House. There were also some members of the House of Representatives in attendance.
Addressing them, he said; "People are worried and very much concerned about the issue of primary elections. Let me tell you that our constitution has provided for consensus, it has also provided for elections.
"And for those of us in PDP, we know for those of us who came from PDP, we know the advantages and disadvantages of primary elections but if you look at it critically from 1999 to 2011, every election year, PDP was having primary elections even when we had sitting President in 2003 and 2011, we had primary elections, but all other parties were not doing primary elections in the actual sense of it."
He also added : "They sit down and look at faces and say you, does a gaze work?  Yes,  may be he is number one here but when you go to the field, he may not be number one and that is why I am personally calling for a consensus, but if it doesn't happen, I believe primary election is also good for the party
"We have seen that since we have quite a number of aspirants, all of us are working, everybody is working very hard, especially those of us from PDP, we have a huge advantage especially my humble self, we have been to so many places, if I look at the …… I am happy to say also that we left so many brothers and sisters on the other side. What they are saying is just get  the ticket, we are here, we are hooked."
He further warned  that any leader that is dividing the country along ethnic and religious lines is a very weak leader and such should not be encouraged
"Any leader either President, governor or local government chairman who decided to divide his people, to me that leader is a very weak leader. You should convince your people by way of programme and projects, you don't divide the people on religious lines, north or south, ethnicity and so on."
Governor Kwankwanso reiterated that he is happy he left the ruling Peoples Democratic Party( PDP)  adding that the PDP is already a dead party.
"I hope all of us here and even those who are not here will team up together with us to defeat the PDP, PDP has already defeated itself on the other hand, all what we need is to ensure that it doesn't rise."
"I am very happy that APC was being formed and therefore let me thank all those who have worked so hard, the governors, members of the national assembly, elders, all those who taught that we need a mega party, now that we have a mega party.  I am sure the other party is shivering. We have done so much since the formation , ranging from the registration to the formation of the leadership at all levels to the various elections that we had across the country."
Continuing, he said; "I am happy that I left PDP, I am so confortable, I am so happy that I have a party, a strong party that is strong enough to defeat the other party. Let me also say that as an aspirant that I come here to brief you, tell you that God's willing, very soon we will fix a date for declaration and I also want to take the opportunity to invite you to where we are going to have that declaration to support me and through me support the party.
"Some are not like us if it is too hot, we will tell them our minds and I am happy to say that there are so many people in this country who are sick and tired of status quo. Status quo is not good for this country, status quo is only good for very few people in this country."
He therefore called on all APC  members to join hands and work together to ensure the much needed change.
"I believe that there is a lot of poverty in this part of the country, the north, but I can also say that there is a lot of poverty also in the southern part of the country," he added.
On the issue of insecurity in the country , the Kano Governor   said: " We have insecurity here in the north, definitely there is a lot of insecurity also in the south. All what we need is a strong leadership, leadership that will say and stand by that yes. Leadership that will not give priority on the issue of your religion or the issue of your ethnicity or whether you are a northerner or a southerner, we need leadership that will judge somebody by the content of his character , somebody who can ensure that everybody is given what he deserves to get.'
EMMA UCHE, ABUJA