U.S Selects Gbajabiamila's Spokesperson, Other Young African Leaders for Mid Term Election Study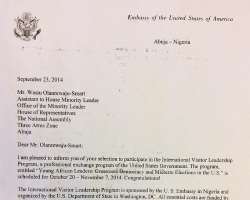 The United States of America has selected six young African leaders in government and private establishments for this year's International Visitor Leadership Program (IVLP), a professional exchange program of United States Government.
The IVLP is part of U.S foreign policy to enable emerging leaders in politics, the media, education, business and trade, nongovernmental organizations to exchange ideas and cultivate lasting relationships with their American counterparts.
Mr. Wasiu Olanrewaju-Smart, Research and Media Aide to Minority Leader of House of Representatives, Rep. Femi Gbajabiamila would be representing Nigeria for the regional project; while the Country Director for Ignitus Worldwide DRC, Mr. Brown KABUYANGA represents Congo; the spokesperson for South Africa's Minister of Cultural Affairs, Siviwe Gwarube and election strategist for Democratic Alliance, South Africa, Mr. Ashore Sarupen would represent South Africa.
The President of Rwanda's opposition party, Mr. Frank Habineza, Swaziland's member of parliament, Mr. Pillar Buthelezi and South Sudan's Deputy Principal, Mr. Peter Nyiel are also among those selected to participate in the "young African leaders: grassroots democracy and midterm elections in the U.S' category" leadership project. The participating young African leaders are expected to study the American political parties mobilize the grassroot during elections, campaign financing, balloting procedure and transparent electoral laws that usually help electoral boards in U.S earn trust among American citizens.
According to a letter signed by U.S Ambassador to Nigeria, Amb. James Entwistle, and obtained by our correspondent in Abuja, the U.S has been funding the IVLP program to expose selected participants to activities of citizen action groups that interact with U.S elected officials, use of social media in the U.S political system and how diversity of views held by Americans contribute to a dynamic and resilient political system that includes free and transparent elections.
Olanrewaju Smart is also a former student leader at Lead City University and former UN model ambassador. Since foray to the National Assembly in 2012 as a legislative aide, he has been saddled with the task of providing background information for the drafting of legislation, gauging opinions and views of all levels of society on national issues, media relations, and advising the Minority leader of House who leads legislative debates on behalf of opposition political parties in parliament.
Olanrewaju Smart has offered interventions during periods of legislative logjam through his essays, "Lawmakers and Oil Benchmark Price", "In Search for Legislative Prudence", "Discourse on What Nigeria Can Learn from Latin America Pink-Tide", among others.
More than 200,000 International Visitors have engaged with Americans through the International Visitor Leadership Program (IVLP), including more than 335 current or former Chiefs of State or Heads of Government.
The post U.S Selects Gbajabiamila's Spokesperson, Other Young African Leaders for Mid Term Election Study appeared first on Pointblank News .