Are Nigerian Pastors Heavenly Conscious?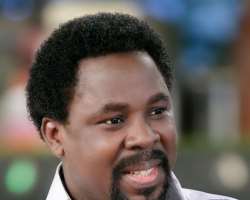 The trying periods of Pastor T.B Joshua,the founder of Synagogue Church of All Nations(SCOAN),Pastor Ayo Oritsejafor of CAN, Pastor Enoch Adeboye of RCCG and Pastor Chris Oyahkilome of Love World Ministries International popularly known as Christ Embassy are indications of Christian faithful paying the religious price of holiness and righteousness of the gospel on earth.
These highly respected Nigerian gospel ministers that have similar callings with similar anointing have been on the news over misconstrued allegations to discredit their callings in Christ. Barely few years ago when Pastor Chris Oyahkilome paid a visit to T.B Joshua church for ministering the gospel of Christ, little did he know that one day, both ministers would be on headline news in Nigeria. Though, his visit also created another religious war among acclaimed Nigerian heavenly conscious pastors.
Pastor Chris Okotie of Household of God condemned Pastor Chris Oyahkilome's visit while Pastor Tunde Bakare of Latter Rain Assembly boastfully tore Bishop David Oyedepo's book. The Bible says" many are called but few are chosen". It sad that today in Nigeria, many pastors have decided to call themselves into the gospel all in the name of economic meltdown. Both old and new generational pastors have decided to take the gospel to the cleaners for earthly possessions. Church camps that used to be for prayer meetings are now turning into industries and businesses are more pronounced than propagating Jesus Christ.
In Proverbs 1:7 says the fear of lord is the beginning of knowledge, but fools despise wisdom and instruction.Today, most pastors do not have the fear of God again than trying to help God with their sugar-coated doctrines to suit their selfish interests. It is difficult in Nigeria to differentiate between a pastor and a politician because the former lives above aboard. Pastor T.B Joshua is one Nigerian pastor who has used his God-given resources to alleviate the sufferings of the poor but remains one of the most criticized pastors in Nigeria. His calling has been tagged as"diabolic"but remains faithful in Christ. As gospel progresses so as enemies multiply in one's calling.
If Pastor Chris Oyahkilome and Pastor T.B Joshua should have their hard times, it is the duty of the church pastors to pray for them not to condemn them, even Jesus Christ also encountered some hard times while on earth.Moreover, the case of Pastor Ayo Oristsejafor of World of Life Bible Church, General Overseer and President of Christian Association of Nigeria(CAN) which was alleged of using his private jet to transport some huge amount of money to South Africa was an indication of some powerful forces trying to vilify real ministers of God in Nigeria.
One of the problems of today's churches is that everybody (Ministers of the Gospel) wants to be at the top without pursuing righteousness of the gospel. It is easy now to identify fake and genuine pastors in Nigeria. Though some church pastors started well in the gospel but never ended well as a result of mundane things. Though pastors going astray in the gospel are of international phenomenon but some Nigerian pastors have relegated the gospel to the background. Bishop Leonard Umunna of Bible Life Church international once said that most pastors in Nigeria are preaching personal prosperity than salvation while Archbishop Joseph Ojo of Calvary Kingdom Church International said most young Nigerian pastors failed to identify with a mentor.
The Holy Spirit is wrongly misinterpreted by desperate clergies who are only interested on earthly riches than heaven. The funniest trick is that photogenic devil has entered into the church performing miracles while leading chunks of believers to Hell fire. How many pastors are preaching hell fire today than prosperity except few? Some use the scriptures to back up their nefarious activities. Pastors turning into armed robbers, ritualists, fake seers, frausters, miracle deceivers and other social evils are not new in Nigeria but God's kingdom that matters in one's life. The new song of generational preachers are to ride posh cars, live in highbrow areas of Nigeria and being connected to highly placed citizens of the country.
It is good to be rich, afterall; David said in the Bible that he has not seen a child of God begging for bread. Every pastor cannot be like Leonard Umunna,David Oyedepo,Dr.D.K Olukoya,Williams Kumuiyi,Isaac Idahosa,Mike Okonkwo, Apostle Suleiman,Yinka Yusuf, Archbishop Ojo, Prophet Stephen Akharume,Pastor Ayo Oritsejafor,Archbishop Osa Oni,Chris Charles,Matthew Omodiagbe,Dr.Ben Obi and others. Every pastor must identify his or her calling. I am not here to criticize anyone but correct some mistakes in the kingdom of God. Few years ago when somebody says he is a pastor, people give him godly respect but the reverse is now the case.
The gospel of Christ is being merchandised by call-self pastors in Nigeria. In those glorious days of Elijah,Abraham,Isaac,Paul,Peter and others, they were faithful and committed believers that were only interested with church activities not positions where senior pastors use their wives as subordinates and appoint head leaders based on their financial strength not godly commitment. Some pastors now place curses on members that refuse to follow their evil ways of life. Most pastors do not accept their faults which have prompted many pastors to split from their former worship centers to start their own.
Another problem is that church pastors now compete with politicians at all levels of wealth acquisition. Even church members are not helping matters in the sense that they give wrong impression of their pastors if not meeting up to the daily financial obligations. Most highly respected Nigerian pastors have compromised their callings than pursuing earthly desires. The Bible says "money answereth all things and David concluded that he has not seen a child of God begging for bread.
The ministers of God ought to be richer than anybody on earth and proclaim Christ. Some pastors now exalt themselves than God. The gospel of Christ is now centered on many cars in your house garage, strength of members, houses acquisition, branches, international ministrations and connections, government influences and others. Big cathedrals and names in the gospel cannot take us to heaven but if church pastors can take the path of righteousness in their callings today.
Only few pastors knew their worthy of callings and nothing more. How a pastor that started a church 5 years ago, wants to have 20,000 members overnight without dying for Jesus Christ. Pastors now emulate pastors instead of Christ. The allegations of fornication,adultery,stealing,forgery,malice,divorce, ritualist, arrogance,kidnapping,robbery and other evil forces are practiced in today's churches. The house of God that used to be a saving grace ground now a killing grace ground for both believers and unbelievers.
Again, miracles are no longer attracted to members anymore but if a pastor can convince his or her members on possible three square meals per day, then such church are ready to grow overnight. Church universities cannot be affordable by suffering members because some pastors have decided to enrich themselves than the gospel of Christ. In no distance time, Boko Haram members have killed thousands of Christians in their worship centres in the North, yet it has not taught a lesson of repentance, most especially General Overseers of the gospel in Nigeria. Beautifying your church cathedrals have nothing to do with heaven.T.B Joshua used his wealth to affect the poor in Nigeria. Most pastors preach amplified messages in the altar but not part and parcel of the messages to Christ. False prophets have dominated the earth deceiving people while only few ministers still trending on the path of Christ.
It is now a decimal point if your church you pastor does not grow, it means there is no Christ, but if it grows numerically, it means there is God in it. Every genuine pastor is bound to face challenges of life unless you are not called by God. God is ready to forgive us and accept our faults in Him. Most pastors are only interested in motivating their members with their books and sugar-coated mouths without allowing the Holy Spirit to speak through them.
Lastly, the Bible says" Therefore if any man be Christ, he is a new creature; old things are passed away; behold ,all things are become new, so any pastor that claims to be called by God must always follow the path of holiness not upturning the gospel of Christ for earthly possessions. Hell fire is real!

Godday Odidi
Public Affairs Analyst
Mindset Media Limited
08058124798 Lagos
Disclaimer:

"The views/contents expressed in this article are the sole responsibility of the author(s) and do not necessarily reflect those of The Nigerian Voice. The Nigerian Voice will not be responsible or liable for any inaccurate or incorrect statements contained in this article."
Articles by Godday Odidi