Constitution review: Reps vote on new amendments today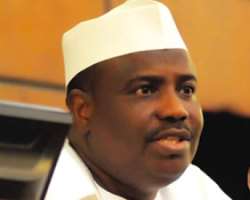 Voting on new amendments proposed to the 1999 Constitution will start at the House of Representatives on Wednesday (today).
Around 70 new clauses have been proposed to be added to the constitution by both the Senate and the House of Representatives.
Both chambers have harmonised their separate reports on the proposals, paving the way for the voting today.
The Speaker of the House, Mr. Aminu Tambuwal, made the announcement during plenary on Tuesday to prepare members for the exercise.
He advised various caucus leaders to mobilise their members for the voting.
The Senate will also vote to pass the amendments in compliance with Section 9 of the constitution.
Among the highlights of the recommendations earlier passed by the House were the removal of immunity (against criminal prosecution) for the President and governors, the rejection of state police and the approval of independent candidature during elections.
It also approved to split the offices of the Minister of Justice and the Attorney-General of the Federation, while the Office of the Auditor-General of the Federation was placed on First Line Charge of the Consolidated Revenue Fund of the Federation.
Under Section 9 of the constitution, two-thirds of all members of each arm of the National Assembly will mandatorily vote to endorse a proposal before it can pass an amendment to the constitution.
This implies that 240 out of the 360 members of the House of Representatives must endorse every proposal before it can be included in the new constitution.
Similarly, 73 out of 109 senators must vote to endorse all new proposals to the constitution.
In addition, two-thirds (24) out of the 36 state Houses of Assembly must also approve the amendments passed by the National Assembly as the final phase of the amendment process.