Pastors Should be Holy - Prophet Amata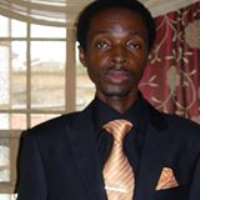 Prophet Isaac Amata is the National Co-ordinator of Zion Fellowship International (Non-denominational). He is one of the regular Television preachers on SBI and he has granted many Christian media interviews on Christian leadership and others. He has written and produced over 17 books, 3 Audio tapes and over 100 prayer points across Nigeria and abroad. He is a revivalist cum evangelist with a difference and a bonafide member of Redeemed Christian Church of God (RCCG) and sees Pastor Enoch Adeboye as his mentorial father in Pentecostal ministry. He has travelled to many International communities evangelising the word of God. His calling into the prophetic ministry was not a mistake but was ordained my God through the revelation he saw on hell and others. In this interview with Godday Odidi, he spokie on the need for Nigerian Pastors to be Holy and other issues affecting pentecostal churches in Nigeria.
Excerpts:
Can we meet you sir?
I am Prophet Isaac Amata, the National Co-ordinator of Zion Fellowship International (Non-denominational) and I am from Ozoro in Isoko North Local Government Area of Delta State. I attended several leadership trainings on ministerial growth and evangelism in Nigeria.
When did you start this Zion Fellowship International?
I started Zion Fellowship International since 1998 and I gave my life to Christ in 1996 at the Redeemed Christian Church of God (RCCG). I am an Evangelist in the Redeemed Christian Church of God. I just came from Zambia ministration where three RCCG churches organized. Apart from being ordained as a Prophet, I am also called into the Evangelical ministry.
Do you see the media as a means to reach out the word of God to people?
The media must be appreciated in all ramifications. Media is capital intensive but we need it in today's ministry. I have been on SBI for sometime now, planning to be on Cable Television where my prophetic messages can be viewed all over the world. The media cover large audience than the foot evangelism.
Where you called before you got married?
In fact when I saw my divine call of God in my life, God gave me a wife that interpreted my vision alongside with me. She is a wonderful woman of virtue to my Outreach too. I got married first and started full-time Outreach ministry but I still remain a dedicated member of RCCG till date.
Can you say God has been faithful to you in this race?
Yes of course! With God on my side, I try to avoid scandals in ministry. I don't counsel women in my house without my wife's presence. In fact I counsel in an open space to avoid evil thought of man. We must know that we are human beings. Pastors using female secretaries are not advisable in ministry. Most pastors' scandals are published on Google. You must know that if a pastor's name is dented on the Google, he cannot be erased. Some pastors' are framed up by some infamous enemies while some are real! But the truth is that the likes of Enoch Adeboye, David Oyedepo and others are free from scandals. Since I started this glorious race on earth, God has been faithful to me. My first place I resided nobody can allege any scandal against me. No matter how a man of God covers his evil, one day, it will surely be exposed. Many great ministers of God have been framed up for what I called as competition in the ministry. Ministers of God should die
in the glory than as an enemy of God. God has been warning so many ministers of God to leave sexual immoralities alone over the years while some die in the process with destructive allegations. Late Prophet Obadare died in the glory of God.
As a great Isoko minister of God, what is your message to the people?
First Isoko people must embrace peace, preach the gospel of Christ and we should recognise the natural resources (Oil and Gas) that God has given to us not as a curse. In Zambia I just came back from a ministerial tour, they do not have oil but there is steady power supply and the same in America. Nigeria needs national revival and nothing more. Nigeria must embrace oneness and unity while Deltans must erase out tribalism among us. God has been raising ministers of God from Delta State. Papa Ayo came into PFN and revived it and now he is in CAN. doing wonderful works in ministry. Many Isoko pastors are my friends in the ministry. I choose ministers of God I associate with in order not to dent my ministerial image.
Are you a member of PFN?
I m not a member of PFN and I don't belong to any group. I am under the RCCG and just an Evangelist using the platform to preach the gospel of Christ to people.
Do you have a church you head?
I told you that I only have an Outreach ministry but still worshipping with the RCCG. God called me into the evangelical ministry and in 2010 God moved me to the prophetic ministry. God revealed to me that Nigeria is the great African countries that would be attacked by the enemies, many bomb blasts and President Goodluck Jonathan will complete his 8 years in office because God does not want Nigeria to be Islamised and for Christians sake. I don't have anything against the North. President Goodluck Jonathan has good transformational agenda for Nigeria and nothing else. Jesus is the body of Christ.
What is your advice for young ministers of God coming up?
Young ministers of God should stay away from cultism and women. Every minister of God must be patient in life. A real man of God must not be found with women, money conscious, drinking in odd places and using female secretaries. You can be too spiritual when it comes to women. I don't counsel women when my wife is not there. So I discipline myself at all levels.