Ukwa-Ngwa People United On 2015 - Nkire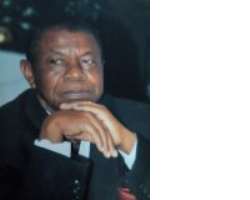 THEO Nkire is the leader of Ukwa-Ngwa Professionals, a major organisation in the pursuit of power shift in Abia State to Abia South Senatorial District. In this interview, the first Attorney-General of Abia State reiterates the imperatives of equity, fairness and justice as the foundation of the decision…


There are concerns that the silence of Ukwa-Ngwa Professionals on the positions of different groups on the Abia 2015 governorship race indicates challenges of realising the dream.
It is not true. There are no serious challenges to our realising the dream.  Ukwa-Ngwa people are united in their quest for an Abia governor of Ukwa-Ngwa extraction in 2015.  This is not to say there will not be dissenting voices.  There surely will be.  For example, there may be people to whom Ukwa-Ngwa interest is synonymous with self-interest.  Such people are for Ukwa-Ngwa governor in 2015 provided they are the candidate.  If they are not the candidate, then no Ukwa-Ngwa governor. Such people abound in every community and the Ukwa-Ngwa nation has her fair share of them.  Luckily for us they constitute a very negligible minority; but even as we speak, we are still wooing them to our side. We have no reason to antagonise them.  After all, this is a democracy and they are entitled to their opinion.  As they say, the minority must have their say and the majority shall have their way.  Ukwa-Ngwa people are united; the few dissenting voices notwithstanding.  We are doing all we can to win them over.
Have Ukwa-Ngwa Professionals given up on Abia South producing the governor of Abia State in 2015?
How can?  Impossible. Except for the fear of appearing immodest, I can say that Ukwa-Ngwa Professionals are at the forefront of the movement for the actualisation of the dream.  We lead the way even though a large majority of our members are from Abia Central.  They agree that what is fair is fair.  They understand it and they agree that power should shift to Abia South. Such is the nature of our struggle.  We believe in fairness.  We believe in justice.  We believe in equity.  We cannot give up.
Is the agitation for an Abia Governor of Ukwa-Ngwa origin still on course?
Yes, very much so; and it will remain on course until the battle is won, until an Ukwa-Ngwa son or daughter is Governor in 2015.
Why are so many Ngwa people opposed to the governorship being zoned to Abia South Senatorial District?
So many?  It is not true.  They are not many.  They are very few; a negligible few.  To be fair to them, quite a good number of those who at first were fizzled by the announcement are now back in our fold.  They now understand that it is only fair for power to shift to Abia South.  Do not forget that these are very intelligent people.  As the days go by, we shall continue to plead with them and I am confident that before the party primaries, we shall all be singing with one voice again.  Such is the beauty of democracy; you must respect those who disagree with you today for they may be your greatest supporters and allies tomorrow.  All our people are coming together.  We are not sleeping.  We are working very hard to bring all dissenting voices back.
Senator Nkechi Nwaogu?
Beautiful woman.  Beautiful in body and soul; and very intelligent, too.  As far as I am concerned, she is an Ngwa woman in and out; anyday, anytime, anywhere.  Nkechi is not from Abia South; she is from Abia Central; and there lies the problem but when the time comes, Nkechi will be the true Ngwa daughter that she is.  No one loves Ngwaland the way she does.  For her and for us, it is painful that we appear to be on different sides on the issue of Abia South; but that will soon be history.  Trust me.
She is not just our daughter.  She is also our wife; married to Dr. Nwaogu, a highly respected Ngwa son, the first Igbo man to earn a PhD in Polymer Science.
Some argue that the division among Ngwa people on zoning would cost Ukwa-Ngwa the governorship
No, it cannot.  Ngwa people have never been as united as they are on the issue.
Why then is there confusion among Ngwa people about the zoning?
There is no confusion.  It is not easy to build a consensus.
How can the Abia Charter of Equity which pre-dated creation of Abia State still be relevant to 2015?
The beauty of the Charter is that it is eternal; it is forever.  It is founded on equity, justice and fairness. So it can never grow old. This is because a cardinal principle of justice is fairness and as you know, equity follows the law.
Is the Charter still relevant?
It is; and so shall it remain for generations and generations to come.  Fairness and justice are the guiding principles of all relationships; whether it is between spouses or friends, communities or nations what is fair is fair.
There are many interpretations of the Abia Charter of Equity, how does the Charter relate to the 2015 contest?
There may be a thousand interpretations of the Charter but only one can be correct and that is the interpretation that calls for equity in the distribution of government business equally between Aba and Umuahia; between old Aba Division and old Bende Division. That is the only interpretation that is correct.  That is the only interpretation that works.
And how does the Charter work today?
Well, here is how.  Abia State as we know it today is made up of three zones - Abia North, Abia Central and Abia South.  Power went to Abia North in 1999 and Oji Uzor took the slot.  Eight years later in 2007 power shifted from Abia North to Abia Central and Ochendo took it.  Now tell me; what is wrong with power shifting from Abia Central to Abia South in 2015?  In all honesty, is this not the natural progression of things?  Is this not how things work in real life? From NORTH to CENTRAL to SOUTH?  Will a shift from Umuahia North (Ochendo's local government area) in Abia Central to Isiala Ngwa North or Isiala Ngwa South or Osisioma also in Abia Central be power shift?  I do not think so.  To me, that would be so much motion, but little movement.
It will be stupid of me to say that my brothers from Isiala Ngwa who dispute the shift from Abia Central to Abia South are unreasonable.  No, they are not being unreasonable.  They are well within their rights to say so.  They are not against the Charter.  Their argument is that the Charter talks of two zones - Aba and Umuahia; not three - Abia North, Abia Central and Abia South.  They argue it is the turn of Aba (Ukwa-Ngwa) and that they, being an integral part of Ukwa-Ngwa, should not be zoned out. Indeed, that they should take first; Isiala Ngwa being the first among Ngwa local governments.  Great reasoning!  Unassailable pontification.  And what is the argument on the other side?
We have come a long way from the days of Dr. Jaja Wachuku and his brother Michael Okpara.  Abia may be made up of two peoples, the old Bende and the old Aba; but the reality on the ground is that there are three political zones in Abia today and that political offices are best distributed along those lines.  It may be painful to my brothers from Abia Central to tell them that Ochendo has taken their slot; but that is the gospel truth.
The second point that must be made is that this is not an Ngwa affair.  It is not even an Ukwa-Ngwa affair.  We are here talking about the office of Governor of Abia State.  If it were an Ngwa affair of course, Isiala-Ngwa would take first.  Ngwa people are the offspring of a man called NGWA.  Ngwa had three sons.  The first was UKWU, the second was NWOHA and the third was AVOSI.  History has it that upon arrival in the present Ngwaland, they first settled in Umuolike near Okpuala Ngwa.  From there, they moved first north and then south to populate what is today known as Ngwaland.  This is why Okpuala Ngwa is to this day the traditional headquarters of Ngwa people.  This is why many Ngwa people in the other five local governments of Aba North, Aba South, Obingwa, Osisioma and Ugwunagbo can still trace their roots to one or other of the three foremost sons of our great progenitor, the man called NGWA.
So, ideally, Isiala Ngwa should take first, if the office of Governor was ours to give.  That is what our tradition demands.  That is what we would have done if we had the powers.  Indeed, the office is beyond what we as Ngwa people can give.  This is why we plead with our older brothers from Isiala Ngwa that they should show that magnanimity and candour that only first sons are blessed with to their younger brothers in Abia South.  Abia South shall not forget.  Abia South will always remember!
To answer you directly, the zoning to Abia South is in line with the Charter; though the zones may change, the principle of equity, fairness, justice remain inviolate!
Those opposed to zoning say it is unconstitutional, undemocratic. Is zoning of political offices peculiar to Abia State?
To answer the second question first, my answer is: certainly not.  Zoning is not peculiar to Abia.  The Office of Governor in 2015 has been zoned in Cross River, Akwa Ibom, Enugu, and Ebonyi, indeed, in almost all the States of the Federation. More recently, at a meeting with the President of Nigeria in Abuja, Adamawa PDP leaders reached an agreement and zoned the office of Governor in 2015 to Adamawa Central.  That is why Fintiri, the Acting Governor and candidate for the October 2014 election will not be a candidate in 2015.
As for your first question, I have said it before and I will continue to say it, for as long as someone asks me, that intrinsic in the federal character provisions of the Nigerian Constitution Section 14(2)(c); 14(3) and (4)] is the principle of zoning.
Why is zoning important for the 2015 governorship race in Abia State?
Zoning is important because zoning is fair; zoning is just and zoning is equity.  Zoning will reassure the people of Abia South that they truly belong; that they are not second class citizens.  Abia North has been Governor.  Abia Central has been Governor.  Why not Abia South.  Equality is equity!
What benefit would zoning of the race have for the generality of Abia people?
Zoning will bring harmony.  Zoning will bring more understanding.  Zoning will bring peace to Abia people.
Fears abound that zoning could deny the race quality candidates.
What a shame! Those who say so do not know the stuff of which Ukwa-Ngwa people are made.  Here is a short list of what we offer Abia people and indeed, the Nigerian people:
ENYINNAYA ABARIBE
Two-term Senator of the Federal Republic; Chairman, Senate Committee on Information; former Deputy Governor, former university lecturer; graduated (2nd Class Upper Division); graduated at the top of his High School class in Ihie.
EMEKA WOGU
Nigeria's amiable Minister of Labour; lawyer (LLM), former member, Revenue Allocation Commission, former Chairman Aba South Local Government.  A loyal party man, Emeka endeared himself to the party when after winning the party primaries for Abia South Senatorial District in 2003, he surrendered the ticket when the party so requested. His loyalty and handling of the numerous labour disputes that Nigeria has had to contend with over the years, have earned him many accolades.
ACHO NWAKANMA
Former Deputy Governor of Abia State, former Speaker, former Deputy Speaker, former Member of House; holds a Masters Degree in Biochemistry from the University of Lagos.
FRIDAY NWOSU
Ngwaland's indefatigable fighter for justice (Ikpeghe Ebeghi); lawyer, public advocate, public speaker; fighter for the oppressed. If you want to know how good this lawyer is, ask me.  He started his legal practice with me.  And if you want to know more, ask Governor Dickson.  Nwosu fought his numerous legal battles and helped bring him the victories that led him up.
OKEZIE IKPEAZU
Abia State's wizkid, that cleaned up Aba within weeks of his appointment as Director, Abia Environmental Agency in charge of Aba. Ikpeazu is reputed to have the magic wand to make things happen.  He holds a PhD from the University of Calabar where he was a Senior Lecturer before he returned home to join politics.  He has served as Chairman, Obingwa LG twice.  A former Commissioner and Adviser to the Abia State Governor, Dr. Ikpeazu is not new to the corridors of power.
UCHE NWANKPA
Hon. Member, Abia State Assembly and current Chairman, Committee on Education. Uche Nwankpa is a former Local Government Chairman and Adviser to the Governor.  His many years in government stand him in good stead to govern Abia.  He holds an MBA from the United States.
PAUL ANANABA
Most learned SAN, Ukwa-Ngwa's first and best, has never told anyone he is in the race.  However, there is a general perception among our people that he is running.  Paul has only recently completed work on his PhD in law at the Babcock University, where he is an Associate Professor.  Paul is also a Member of Council at that University and legal Counsel, too.
It is also important that I mention two gentlemen whose interest in the race has only recently been made known. Ambassador Okey Emuchay was until recently, Nigeria's envoy to South Africa.  It would be preposterous for anyone to say that a man, who has ably represented our country in Africa's second most important nation, cannot govern Abia State.  The second is Chief Mac Wabara, former Chief Executive Officer of Hallmark Bank.  Mac endeared himself to the Ukwa-Ngwa nation when he came second in an exercise to pick PDP's candidate for Governor in 2007, and immediately collapsed his expansive platform across the State to support the winner, Chief Tony Enwereuzor. Ukwa-Ngwa can never forget.  Ukwa-Ngwa will always remember.
Is there any one of these nine gentlemen (and more) from Abia South that cannot govern Abia State?  You be the judge. However, one thing is certain: by the time of the primaries there will be only one Ukwa-Ngwa candidate in PDP.
Is Governor T. A. Orji still in support of Abia South producing the governor in 2015?
Governor Oji is a gentleman.  He is solid in his resolve to support Abia South. There are no doubts about his determination to ensure equity, fairness and justice in this matter. Those who doubt his resolve are unfair to him. As recently as August 27, during the Abia Day celebrations, he repeated his support for Abia South to produce the governor in 2015 in line with equity, fairness and justice. We salute his steadfastness.
How is Abia South generating support for its cause in 2015?
We cannot reveal our strategy on the pages of newspapers. Be sure that we are winning more support as Abia people understand the principles of equity, fairness and justice.