Scores feared killed, 12 injured in Kirikiri prisons riot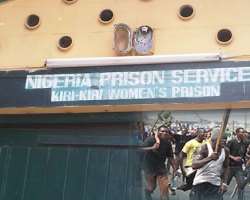 Pandemonium broke out at Kirikiri Medium Prison in Lagos on Friday as a riot by inmates led to 12 inmates sustaining varying degrees of injuries while unconfirmed eyewitness reports said scores died.
An eyewitness told newsmen that some inmates were shot by soldiers stationed at the prisons who moved in to quell the riot which followed a protest against an alleged seizure of a fan belonging to an inmate by a prison official.
'Someone brought in a fan for an inmate referred to as the 'general-overseer' of the prison's Christian denomination. But the fan was seized by the officer in-charge of the prisons, who also allegedly ordered the inmate detained.
'The inmate said he was the owner of the fan and only sent it out of the prison for repairs. The inmate was later released after protests by his colleagues who felt he was being unjustly punished. But the situation soon degenerated beyond control, necessitating the intervention of soldiers at the prisons.
'By the time the inmate was released, the other prisoners had started throwing stones at windows and getting violent. The soldiers shot sporadically at the inmates as they ran into their cells, but many of them were hit. The shooting started around 1.30pm.' the source said.
Spokesperson for the Nigerian Prisons Service, Mr. Ope Fatinikun, in his reaction, confirmed the rioting to newsmen but said that no one died.
'No inmate was shot at, but 12 of them who sustained minor injuries have been given treatment. If anybody tells you he saw bodies of shot inmates, he should provide pictures. We have passed that stage, something like that could not have happened without someone getting a picture,' he said. Tribune