Rivers govt confirms receiving N200m Ebola fund from FG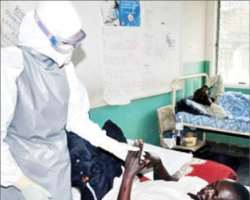 The Rivers State Government said on Friday stated that President Goodluck Jonathan had released the sum of N200m promised by the Federal Government as part of its contribution to the fight against the Ebola virus disease in the state.
According to the State Commissioner for Health, Dr. Sampson Parker, the state government has expressed gratitude to the President for fulfilling his promise and assistance in tackling the dreaded disease.
'We thank President Jonathan for graciously releasing the N200m he promised to give to the state to assist us in tackling Ebola. We have received the money.
'Ebola was still ravaging Liberia, Sierra Leone and Guinea. With what we are hearing that is happening in other parts of the world, the ocean cannot stop EVD from travelling.
'So, we have to redouble our efforts this time around in the areas of vigilance, surveillance and monitoring. Our treatment centre here is still open. The operations centre is still on. Surveillance is still going on. Point of entry are still been monitored. Screening is still going on,' he said.