I'm not desperate for Eagles job, says Keshi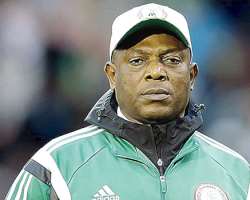 Embattled out-of-contract Super Eagles Coach Stephen Keshi has told SL10.ng that he isn't desperate to remain as the Super Eagles coach, as speculations over his immediate future continues.
Keshi's future has come under intense scrutiny after Nigeria's slow start to the qualifying campaign for the Morocco 2015 Africa Cup of Nations. His future was also under scrutiny before the qualifiers began, with the immediate past board of the Nigeria Football Federation led by Aminu Maigari seemingly unwilling to offer him fresh terms.
And now, just like he said before and after the World Cup, the 52-year old has reiterated that he isn't desperate to retain the job, saying it isn't a 'do-or-die' affair.
'It is not a do or die affair with me and Nigeria because I am not one of those coaches who finds it difficult to coach outside of Nigeria, I'm not,' he said.
The 'Big Boss' also refused to confirm or deny whether or not he has received any assurances from the Nigeria Football Federation on a new contract offer, but says his immediate focus is on beating Sudan on Saturday and next Wednesday.
'No I don't need to talk about that now, the most important thing right now for me in my career is to win in Sudan. After that, if there's anything called a contract or not, it's up to the NFF and whoever is concerned. But me, let me win my games on Saturday and Wednesday and if Nigerians are happy, we'll see what happens.'
The former Eagles of Mali Coach however claims there are several offers on the table for him, but admits he would love to continue with Nigeria.
'I thank God that I have other options, so if it is not here (Nigeria), which I love because it's my country, no shaking,' he said confidently. - Vanguard.