CHILE PREISDENT PINERA MARKS MONTH SINCE EARTHQUAKE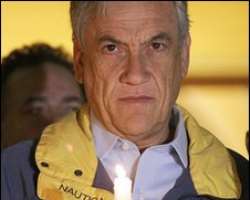 Chilean President Sebastian Pinera has attended a vigil to commemorate exactly one month since a massive earthquake struck the south of the country.
Mr Pinera, speaking in the city of Concepcion, repeated his vow to rebuild areas devastated by the earthquake.
The 8.8 magnitude quake and the tsunami it triggered killed nearly 500 people, with thousands more made homeless.
Total damage has been estimated at $30bn (£20bn) with more than 1.5m homes across the country damaged.
Speaking at the vigil in Concepcion's cathedral, Mr Pinera repeated his pledge to rebuild areas hit by the quake.
"We have a debt, a task to rebuild our country," he said.
"As president I will lead that reconstruction process, I'll be the bricklayer, the worker, the carpenter, the engineer and also the architect, representing all Chileans and as we have already said, we will rebuild on stone and not on sand."
Mr Pinera said he also planned to extend the presence of the military in some areas to help speed up the rebuilding process.
'Dry your tears'
Later, he addressed a mass in the square in front of the cathedral, attended by thousands.
He called on people to dry their tears and to start working "in the great task of rebuilding Chile".
Concepcion, the second largest city in Chile, was severely damaged by the quake and hundreds of its residents are still living in tents in parks and gardens.
Tens of thousands who lost their homes in the regions of Bio Bio and Maule and are still waiting for temporary housing.
Mr Pinera took office less than two weeks after the disaster.