Uduehi will be governor - Ighoraye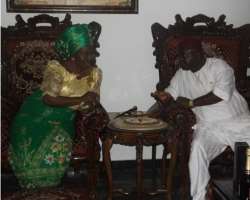 Dr. Uduehi discussing with Okpe PDP Chairman Chief Sir Cosmos Ighoraye
The gubernatorial aspiration of the former special Adviser to President and PDP governorship aspirant in Delta state, Dr. Esther Uduehi at the weekend received boost, following the endorsement of her candidature by the People's Democratic Party (PDP), Okpe chapter.
This was disclosed by the Chairman of the PDP, Okpe local government chapter, Chief Sir Cosmos Ighoraye at his Okpe residence where the governorship hopeful paid a consultation visit to the executives of the party in Okpe local government.
Chief Ighoraye noted that the time for a candidate to emerge base on credibility is now; He maintained that Dr. Uduehi is best positioned for the job, going by her track records, remarking the she had carved a niche for herself in her days as permanent secretary in the then Bendel State. Dr. Uduehi was described as a goal getter, an astute technocrat and administrator.
He assures Dr. Uduehi of his people's support, while promising to take the crusade to the people of Okpe local government. He appeal to those at the helm of affairs of the People's Democratic Party in the state to allow the people choose who succeeds the present administration in the state, stressing that imposition of candidate is capable of jeopardizing Goodluck Jonathan re-election bid come 2015.