Colleagues confirm missing pilot was one beheaded by Boko Haram, friends pay tributes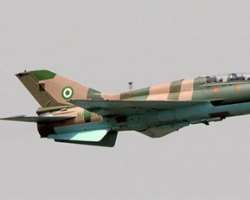 Though the Defence Headquarters has disputed the authenticity of the latest Boko Haram video showing a captured Nigerian Airforce jet pilot, captured and beheaded by the insurgents, but the Nigerian Army Support Group on Facebook has already announced the death of the pilot, describing him as 'a true Nigerian hero.'
The groups says, 'It is with deep regret that we announce the death of a true Nigerian hero, Wing Commander Chimda Hedima (1975-2014).
'This is his story. Read it, share it. This man was a hero of the highest order.
'On 11/09/14, a company of NA soldiers attempted to overrun a BH position in Borno. Due to the low altitude, the plane suffered significant damage from the terrorists' gunfire. Wing Commander Hedima and his partner realised that they were going to crash.
'They, instead of hurriedly parachuting to safety within Nigerian controlled territory, chose to embark on a mission to destroy as many terrorists and their weapons as possible. They parachuted out at the last minute but not before ensuring their plane slammed into a column of terrorists; 63 Boko Haram members were killed as a result of their bravery.
'Wing Commander Hedima was captured. On 12/09/14, he was killed.
'He chose Nigeria, he chose all of us. We cannot forget him. Please share his story. His name should be known by everyone.
'Rest in peace Commander, we are grateful. May you find eternal peace. Thank you for your service.'
Since the group posted the announcement on its group page, tributes have not ceased pouring in.
Olatunde Eyitayo Titus, writes, 'Great soldier indeed….R I P…..Why has it taken the military long time to inform Nigerians about this?….We saw this in the news that BH beheaded a pilot b4 the military is telling us this, this morning….Horrible…..Young man,you were really brave …'
Gabriel Henry, writes, 'RIP, the brave one…. but I think the Defence Headquarters should be telling us the whole truth so that if there is where the citizens can help, enough of this self denials, what's actually going on? What happened to your intelligence gathering mechanism to nip the horror in the bud? Where is the giant in you? How come a small fragment & untrained (band) like Boko Haram is bringing you to your knees?… go! go hard Nigerian military! We are solidly behind you!!!!!!!!!'
Zubby Okonkwo writes, 'Your sacrifice for this Nation will not be forgotten in a hurry. Even if the present crop of leadership fails to recognise you, the Nigerian masses do. Our hearts go to your loved ones you left behind and may God comfort them. You participated in the struggle to eradicate our land from these brigands of evil. The only language they understand is force and you were one of our force men who daily toil to give us peace. To our brother, our hero, our friend, a true Nigerian, a black man, I will not say good bye to you as your memories will live long but I would rather say safe journey till we all meet to part no more.'
Ali Sunoma Alhaji, writes, 'A gallant hero worthy of emulation by all Nigerians not only the military. That way Boko Haram will be afraid of every Nigerian whether armed or not.' Punch