UDOM EMMANUEL; PHASES IN AKWA IBOM STATE GOVERNANCE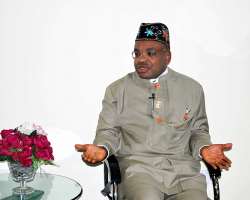 Our people, a lot have been said about the politics, culture and future of Akwa Abasi Ibom State where we all are privileged to come from. History is at the finger tips of most of us but reconciling it with reality, matching it with present events and being careful to make even greater influence is where we seem to be stuck.
The truth is that the emergence and operations of every government has its unique ambiance. Apart from the fact that governance involves presenting a vision (manifesto) to the populace, there is a specific call of each admistration and an assignment to be accomplished; thus the need to come on board.
From the previous governors to when Governor evolved as part of the modern day Akwa Ibom State leadership, different things have been achieved by diverse people.
Today, Victor Attah is recognised for his fervour in negotiating for our natural resource allocation.
Our beloved Governor Godswill Akpabio receives adulation for being the Uncommon Transformer; a man who has been able to change the face and mentality of the state from a position of self-pity to that of self realisation and fulfilment. Petulant politicians might not want to hear this but they cannot also erase the fact that the state has been totally transformed. This is the confession of an Akwa Ibom son, Paul, who visited home after many years of living abroad: "I come from Uyo capital city and had lived there from birth till I left for the United Kingdom. I knew Uyo like the back of my hand but on my return recently, I felt like a total Stranger, I could not tell exactly where I was standing and where to locate my father's house. This administration has done wonders! This is what we call TRANSFORMATION!"
Akwa Ibom State has climbed to the top; not as a local champion but as an evolving global figure. Getting to the top, as we know is not always the issue but remaining there is what tells the world you actually deserved a high place in the first instance.
The big question now is 'Are we ready to keep Akwa Ibom State at the top or are we going to allow our selfish interests to pull us down?
The NEW PHASE of the state is our concern; we cannot let ourselves down. This is why the Governor has looked and consulted wide and has come up with the suggestion that the uncommon transformation should be sustained.
Now that we have set our house in order; there is an airport for investors to land, and a potential seaport to explore as well as good roads; we need to bring in a man that can manage this portfolio. I've listened to different politicians speak, I've read about actions and reactions of certain people who say they are going into the Hill Top mansion but I have only found one man who is right for this assignment even though he is yet declared
After listening to the SSG- Udom Emmanuel speak on BenTV during his official assignment in London, I could not vacillate my stance on who to pilot Akwa Abasi Ibom State to the promised land. I know he is our 'Mr Right', a man who redefined politics to be the harnessing of natural resources to benefit the masses. A man who is different in so many ways from the frumpy familiar political terrain that is injurious to mankind.
It is axiomatic that Udom Emmanuel will take us to greater heights where food and daily sustenance will no longer be a challenge. His vision of industrialisation is epic; he's not a man that nestles in mediocrity or is petrified by novel ideas. He believes in excellence, renders selfless service and rejoices in the satisfaction of the masses.
We are proud to have a man like Udom: he's not an exotic personality but our very own son & brother. Ukang nnyin, yak idara se inye- let's celebrate our own.
When a caller from Birmingham asked Udom during the show to mention the things he'll do for the people of Akwa Ibom if he emerges as the next Governor, he carefully declined and maintained he was not on air to run campaign but solicit support for both the governor and the president of the nation.
We have not officially heard from Udom if he's going into the Guber race but we are convinced he has what it takes to steer this boat of uncommon transformation to its zenith.
Jane Javan, an indigene of Akwa Ibom State writes from LONDON.
Disclaimer:

"The views/contents expressed in this article are the sole responsibility of the author(s) and do not necessarily reflect those of The Nigerian Voice. The Nigerian Voice will not be responsible or liable for any inaccurate or incorrect statements contained in this article."