Army inaugurates second court martial to try 97 soldiers for mutiny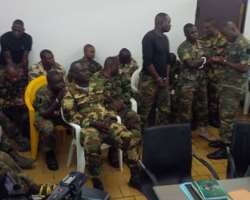 The Nigerian Army on Thursday inaugurated a General Court Martial at the Mogadishu Cantonment at Asokoro in Abuja, to try 97 soldiers for alleged mutiny.
15 of the soldiers are senior officers and that Lagos-based lawyer, Mr Femi Falana, is appearing for 68 of the accused soldiers.
They are also being charged with assault, Absence Without Leave (AWOL), house breaking, conduct prejudicial to good orders, service discipline and other offences.
The court was inaugurated after none of the accused soldiers raised objection to the constitution of the 13-man panel.
The President of the court, Brig.-Gen. Musa Yusuf, in an inaugural speech, assured the accused soldiers that the court would be guided by the principles of fair-hearing and justice.
'You shall be given the facilities and conditions necessary for the proper defence of your cases.
'In line with the provisions of section 35(2) of the 1999 Constitution (as amended), every one of you shall be presumed innocent by the court until proved otherwise.
'Let me assure you that the GCM will base its decisions and findings only on the facts presented before it,'' Yusuf said.
He appealed to journalists, in the interest of national security, the accused soldiers, patriotism and justice, to be fair and objective in reporting the proceedings of the court.
Speaking to newsmen after the inauguration, Falana said he reposed confidence in members of the general court martial to do justice.
'I have taken part in a number of courts of this nature and even where we lost, we have to go on appeal and we succeeded; so, there is no cause for alarm,'' he said.
The trial of the soldiers was adjourned until Oct. 16.
It will be recalled that a similar panel had, on Sept. 16, sentenced 12 soldiers to death by firing squad for mutiny. (NAN)