Dangote anticipates billion-dollar Dubai investments in subsidiaries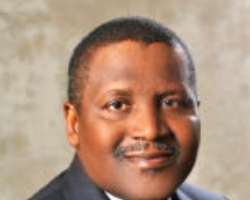 Africa's richest man, Alhaji Aliko Dangote, said further deals with the Investment Corporation of Dubai might run into billions of dollars after the Emirati holding company invested $300m in his cement business last month.
'We have also agreed to invest in other ventures in oil and agriculture,' Dangote said on Wednesday in an interview at a conference in Dubai, according to Bloomberg News.
'They already have a seat on our board. This could run into billions of dollars. There are a lot of opportunities that we are looking at with ICD.'
ICD is exploring opportunities to work with the Nigerian billionaire after taking an unspecified holding in Dangote Cement Plc last month, its first major Africa investment, ICD Chief Executive Officer, Mohammed Al Shaibani, also said on Wednesday in Dubai.
The company is diversifying its investments, which include Emirates airline and Emaar Properties.
Dangote, whose cement and commodities businesses built him a $23.1bn fortune, according to the Bloomberg Billionaires Index, partnered with the private-equity firms Blackstone Group and Carlyle Group in August for Africa investments.
He is planning to spend about $3bn to boost production of sugar and rice at his companies, he said.
Dangote's cement business, the biggest producer in Africa, has the capacity to produce 29 million tonnes in Nigeria and is planning to expand in 13 other countries on the continent.
The billionaire is bidding for gas assets in Nigeria, Africa's largest economy, to help stem continuing disruptions to his cement plants in the West African nation.
He's also building a $9bn oil refinery and petrochemical complex in Nigeria's southwest that is scheduled to be completed in 2016.
'We are looking forward to doing more with Dangote, and we have some things that we are exploring at the moment,' ICD's Al Shaibani said. 'Having the right partner, especially in Africa, is the key thing.'
Nigeria relies on fuel imports to meet more than 70 per cent of its needs. Four government refineries with a combined capacity of 445,000 barrels a day are operating at a fraction of that because of poor maintenance and aging equipment.
Dangote's businesses offer 'huge growth potential and we saw this as the right moment to come in,' Al Shaibani said. - Punch.