INDEPENDENCE ANNIVERSARY: GVM CHARGES NIGERIANS ON PATRIOTISM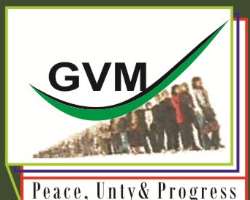 INDEPENDENCE ANNIVERSARY:
GVM CHARGES NIGERIANS ON PATRIOTISM
As Nigeria celebrates 54 years of independence, a Pro-Democracy Pressure group, Grassroots Volunteers Movement-GVM has charged the citizens on patriotism and support to those in authority.
Chairman, Board of Trustees of the Group, Prince Sunny Ekanem gave the charge while delivering an Independence goodwill message to Nigerians in Abuja.
According to him, poor attitude to issues of national interest has not helped our society and therefore calls for a change of attitude.
"The problems of Nigeria are enormous. They accumulated overtime and shall not be solved overnight. It will take a gradual process. However, a lot of Nigerians are not patriotic. Many of us are only interested in what enters our pocket and the things that will favour us and our cronies. This attitude is not proper. We must all first, be interested in the well-being of the country. Getting it right for the country shall have a direct impact down to the grassroots. We have no other country apart from Nigeria and we must all be interested in building it."
Speaking on rural development, Ekanem argued that the neglect of the rural areas over the years is responsible for the increase in rural-urban migration and spoke of the need for a deliberate policy to target mass rural development.
On anti-corruption, Ekanem commended the President Goodluck Ebele Jonathan-led Federal government for his commitment to the war against corruption in Nigeria, but urged him to put machineries in place to check the activities of anti corruption agencies in the country.
He commended the National Assembly for passing the Nigerian Financial Intelligence Center-NFIC Bill and urged the President to make haste to sign same into law in the interest of the country's anti-money laundering war.
On the leadership of the Center, Ekanem warned that any attempt to hijack the Center will amount to defeating the entire essence, even as he spoke of the need for credible persons to be appointed into leadership positions in the Center.
On the 2015 elections, the GVM henchman passed a vote of confidence on President Goodluck Ebele Jonathan, describing him as God's anointed to salvage Nigeria.
He urged all Nigerians to support him in 2015 for a better Nigeria.
Disclaimer:

"The views/contents expressed in this article are the sole responsibility of the author(s) and do not necessarily reflect those of The Nigerian Voice. The Nigerian Voice will not be responsible or liable for any inaccurate or incorrect statements contained in this article."
Articles by Chike Duru