Nigeria: Dokubo-Asari Supports UN, AU Led Partitioning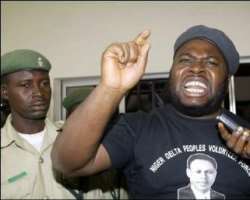 …. Says Mark Should Resign For Calling Gaddafi 'A Madman.' PHOTO: ALHAJI MUJAHID DOKUBO-ASARI.
ASABA, DELTA March 27, (THEWILL) – The leader of the Niger Delta Peoples Volunteer Force (NDPVF), Alhaji Mujahid Dokubo-Asari has thrown his weight behind the recent call by Libyan strong man Muammar Gaddafi to divide the Nigerian state into two along religious lines to put an end to the recurring ethno-religious crisis in the country.
Alhaji Dokubo who also called for the resignation of Senate President David Mark for calling Gaddafi a madman reasoned that the cry of oppression and marginalization in Nigeria is not limited to the ethnic minorities of the Niger-Delta alone stating that the majority ethnic groups like the Igbos and the Hausa- Fulanis are also groaning "under the worst form of internal colonialism."
Alhaji Dokubo-Asari in a statement made available to THEWILL in Asaba, Delta State said the call by Gaddafi was justifiable and appealed to United Nations Organization (UN) and the African Union (AU) to preside over the division saying that the controversial call by Gaddafi was in order in the light of "the growing discontents in Niger Delta and other parts" of the country.
He argued that the friction emanating from the colonial contraption or pseudo political union has led to the lingering crises in the country, including 'coup d'états, counter coups, secession battles, civil war, rigged elections, pro-democracy agitations, civil unrest, inter-ethnic war, self determination struggles to armed insurrection in the Niger Delta', noting that "The Berom people of Jos, the Kanuris, Nupes, Tivs, Jukuns, Idomas, Igalas, Ibiras and other ethinic groups of today's Northern Nigeria are not left out."
He said the erstwhile "free nations were forced together into a British Colony that was later put under the authority of the Fulani aristocracy through a massively rigged election and phantom independence in 1960 which has left the Country" more divided, stating that it will be better for the global community to acknowledge this fact so that "pragmatic steps be taken to constructively dissolve the entity called Nigeria," the statement added.
According to him, the international community must rise to this occasion like it did in India and Kosovo stressing that there is nothing more sacrosanct about Nigeria than the defunct USSR, Yugoslavia, Bosnia Herzegovina and Czechoslovakia adding that Muammar Gaddafi has boldly taken the first step and initiated the global debate on Nigeria.
Dokubo opined that a Sovereign National Conference (SNC) of all the ethnic nationalities that were forcefully conscripted into Nigeria will be a veritable platform for determining the lines of division under the careful supervision of the United Nations.
He said that statement from Gaddafi should be the biggest challenge before the United Nations and African Union since their inception since both organizations still have ample opportunity to nip Nigerian crisis in the bud adding that the time to act is now before the bubble burst.
|
Article source