Dabz Movie releases trailer of 2nd Honeymoon amidst controversy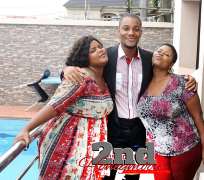 Amidst a long trail of controversy, Dabz Movies has finally released the trailer of the most talked about cinema movie in town, 2nd Honeymoon.
This movie which is the topic of every discourse among movie-buffs is about a couple, Alexx Ekubo and Adunni Ade who decided to spice their relationship up by going on a second honeymoon but as things turned out, there was a spoiler, Uche Iwuanyanwu, lurking around to make sure the honeymoon ends in tatters. Uche is the girlfriend working on Alex behind Adunni's back.
However, the trailer shows Alexx Ekubo and Adunni Ade getting under each other's skins to bring to life what exactly an erotic love escapade means in a new movie 2nd Honeymoon.
The thrust of the movie is the emotional intrigues involved with viewers to be kept on the edge of their seats whether the experience would make or mar the marriage of the couple, as Adunni soon found out the tryst between Alex and Uche.
Dabby Chimere is the executive producer, Lawrita Obioha, associate producer, with Okechukwu Ifeanyi as the director. The wardrobe is handled by Yvonne Chioma of Yveoma Couture. Other cast members include Dabby Chimere and Uzor Arukwe.