Enugu 2015: Adada Media Forum commends Chime, PDP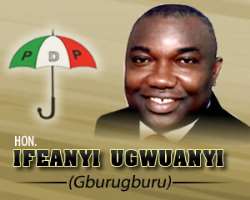 The Adada Media Forum has commended stakeholders in the Enugu State chapter of the Peoples Democratic Party (PDP) for adopting Hon Ifeanyi Ugwuanyi as the consensus candidate for next year's governorship election in the state.
The forum made up of media professionals from Nsukka senatorial zone made the commendation in a statement signed by its Publicity Secretary, Mr. Malachy Agbo, noting that the amicable way Hon. Ugwuanyi was picked demands that the people of the senatorial zone need to double their efforts in ensuring that the candidate succeeds in the forthcoming 2015 governorship polls.
Hon Ugwuanyi, who represents Udenu/Igbo-Eze North federal constituency, recently emerged as the PDP consensus candidate of the Enugu North Senatorial Zone for the 2015 governorship election in Enugu State, during a caucus meeting at Chime's instance.
Thanking the Enugu State Governor, Sullivan Chime for his wisdom in creating the atmosphere that gave rise to the emergence of  Hon.
Ugwuanyi by consensus, the forum also praised him for keeping to his promise of zoning the 2015 governorship slot to the Senatorial Zone.
They pointed out that the emergence of Hon. Ugwuanyi as the Enugu North PDP's 2015 gubernatorial candidate by consensus, as prompted by governor Chime, clearly demonstrates that the governor is a man of his words and that the people will forever be grateful to him.
It was gathered that at the meeting, which was also attended by 11 other aspirants including the State Chairman of PDP, Engr Vita Abba, the aspirants exhibited uncommon sportsmanship as nine of them reportedly stepped down for Hon Ugwuanyi, who was perceived as being neutral in the ensuing political uneasiness between Chime and the Deputy Senate President, Ike Ekweremadu.
The forum also called on the people of Enugu North and the entire state to support Hon. Ugwuanyi en masse in the new task, and advised the governorship aspirant not to see his adoption as triumph over others, but as a special opportunity to prove his adoption right and as well as, convince the people of the state that he will not disappoint them after the polls.
According to the group, with this development, the Nsukka Senatorial Zone may be getting closer to achieving their dream of producing governor of Enugu State since the return of democracy in Nigeria in 1999.