Qua Iboe Church Ewet Celebrates Udom Emmanuel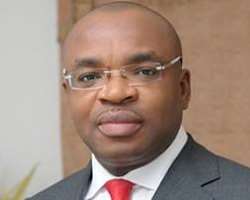 Come Sunday, October 5th, all roads lead to Qua Iboe Church Ewet Offot, Uyo, as top government functionaries, associates and the business class in the state will throng the Church to celebrate an illustrious son and Secretary to the State Government, Mr Udom G. Emmanuel.
The occasion, which is the 2014 anniversary of the Church and grand reception in honour of Mr Emmanuel , will also be used to realize a 32 – Seater Coaster bus for evangelism in the church.
Expected as Special Guest of Honour at the occasion is the State Governor, Chief Godswill Akpabio, while the Wife of the Governor, Mrs Ekaette Unoma Akpabio is the Mother of the day.
The Chairman of the planning Committee, Mr Uwem D. Etuk said the Secretary to the State Government who is a Deacon of Qua Iboe Church, was selected to be honoured because of his sterling and exemplary attributes which have greatly inspired many people.
Also expected to be celebrated at the occasion are some outstanding members of the Church who have so distinguished themselves in their fields and who have so impacted positively on the lives of others in the society.
Among those up for mention include the Commissioner for Information, Mr. Aniekan Umanah, Commissioner for Commerce and Industry, Arc Ufot Nkangude, the Special Adviser in the Bureau of Political and Legislative Affairs Otuekong Emmanuel Ibiok, and the Permanent Secretary in the State Ministry of Finance, Elder Nse Ekefre.
The colourful assemblage, according to the organisers will also accord appreciation to God for the lives of some eminent members of the society, who have been outstanding in philanthropy and industry without necessarily being members of the Qua Iboe family.
They include the State Commissioner for Special Duties, Barr Emmanuel Enoidem, the Managing Director of Septa Energy, Arc Ufot Ebong, the Chief Executive Officer of Ubotex Nig Ltd, Elder Ubong Obot.
The Qua Iboe Church Ewet Offot, Uyo was established by Rev Jimmy Westgarth in 1909.