Rivers PDP Chairman, Obuah Hails National Awards Conferred On Odili, Wike, Sekibo
…Says They Are True Ambassadors Of Rivers State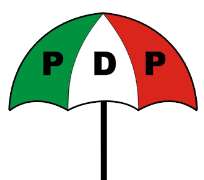 Gladdened by the Nigeria Government's appreciation of the various outstanding contributions of three great and patriotic Rivers sons and leaders, Sir. Dr. Peter Odili, Chief Nyesom Wike, and Sen. George Sekibo, with the conferment of National Merit Awards on them, the Chairman, Rivers State Chapter of the Peoples Democratic Party, PDP, Bro. Felix Obuah, describes the honour as most deserving and commendable.
The PDP Chairman notes that the three Rivers sons are true ambassadors, who have over the years, in various capacities, distinguished themselves as not just professionals and technocrats but real Statesmen with exceptional vigour, transparency and enthusiasm in State and national service.
The Party Chairman particularly recalls that as Executive Governor of the State, Sir (Dr) Peter Odili, CON, demonstrated exemplary, focused and transparent leadership as a God-fearing man, adding that the 'Golden Governor' offered an egalitarian leadership that at the moment has not been surpassed.
In like manner, the PDP expresses confidence and believes that the honour done the Hon. Minister of State for Education, Chief Nyesom Wike, CON, unveils his incomparable hard work, resourcefulness, dauntless courage and philanthropic disposition in service to humanity, noting that Chief Wike, who is also the leader of the party in the State, has become an agent of positive change of a despotic government in the State.
We have made our platform open and available to all patriotic and progressive minds, and have over the years proved ourselves right with the caliber of democrats, service and development-oriented representatives that have utilized such political space created by the Party. Distinguished Senator George Sekibo, CON, is one of such dependable representatives and party leaders that the party and the people of the State are proud of.
The PDP congratulates the three true ambassadors of Rivers State and expresses confidence that the awards will spur them to be more focused towards the victory of the party in Nigeria and Rivers State.
Congratulations, Our Great Ambassadors!
Signed:
Jerry Needam
Special Adviser, on Media to
State PDP Chairman, Bro. Felix Obuah
Monday, September 29, 2014.