Battle Line: Human Right Lawyer, Emeka Ogwuonye Reacts To The Arrest Of Investigative Journalist, Fejiro Oliver.
…Calls for his immediate release.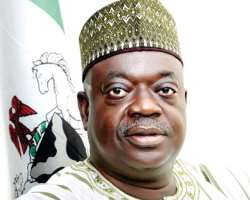 Gov. Muazu Babangida Aliyu
After a week of the arrest of NTA Asaba Camera journalist and online investigative reporter, Tega Sampson, A.K.A Fejiro Oliver; a US based human rights lawyer, Mr. Emeka Ogwuonye has described his detention as a slap on journalism and insult to the human right community. Mr. Ogwuonye bared his mind yesterday via Facebook. He said Gov. Mu'azu Aliyu was bent on deploying state power to repress freedom of speech and press freedom to cover the towering corruption scandal uncovered by the arrested journalist.
"For the avoidance of doubt, this is not about Oliver. It is not about one journalist and one state government. It is about press and personal freedom at a critical time in the history of Nigeria. The country is going through a bad war and facing an election. The populace has been gradually finding their voices to hold government accountable throughout the new media (the social media). The government through its instrument of atavistic repression wants to test the waters and see how easy it will be for them to repress this new media. And that is what is playing out before the world "Stated Ogwuoeneye.
He wondered why the Niger State Government could suddenly kidnap an individual, confiscated his cell phone and using it to create bogus evidence then the public began believe them.
"He is also charged with extortion. But he never entered Niger Sate voluntarily. Rather, he was kidnapped in Abuja and taken to Niger State.
And the evidence the state is bandying about, and which many have swallowed so foolishly, consists of cell phone exchanges. But did you remember that once that guy was kidnapped, they seized his phone and presumably began to create the evidence they needed to blackmail him." The human right lawyer maintained.
He argued that there was no law in Nigeria which criminalizes the use of pseudonyms for reporting or any other purpose for that matter; as such there was nothing wrong with using pseudonym to carry out investigation; but only that Nigerian government has come to realize the force associated with the "new media" – social media which it cannot suppress as it was trying to test the water to see how the public will react.
"And by the way, there is no law against a person using a pseudonym. That has been one thing that the least informed among you have tried to criminalize. There is nothing wrong in a journalist regularly based in Asaba covering a story anywhere in the world. So, stop and think. When this battle starts, it is the Governor of Niger State that would be shown to be the rogue."
The Maryland based lawyer called on the Niger State government and Governor Muazu Babangida Aliyu to drop the flimsy charges of extortion preferred against Mr. Fejiro Oliver or be prepared to face the greatest battle of the history of Niger state which would finally expose the cankerworms in the administration of Mr. Aliyu.
"I hate to see this Fejiro's case get out of hand. That is why my first move would be to persuade the Niger State Government to drop this case quickly. I would like to convince them that they would be the most damaged at the end of a protracted fight. I will do that as a matter of courtesy given my feeling toward the people of that State. Should it fail, then we are in for a fight. I will first try to move that case out of Niger State. None of the alleged facts occurred in Niger State. The suspect was kidnapped and forced to the state. Our constitution would not allow anybody to destroy the principle of jurisdiction by illegally creating jurisdiction. Trust me: they will never win this case." He stated.
Mr. Oliver was arrested by the men of DSS in Nnamndi Azikiwe International Airport Abuja after agreed to meet the SSG of Niger State for present the government side of the story of the alleged N40 Billion corruption scandal spanning the seven years of Governor Muazu Aliyu administration uncovered by Oliver's investigation. He was billed to interview the SSG in the public arena in Abuja as arranged but whisked away and kept under custody coerced to destroyed the 20 page documents x-raying government scam