Nations Cup qualifier: Keshi toying with our chances, Lawal bemoans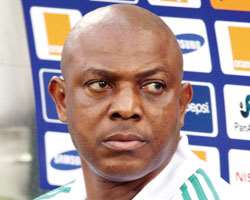 Former Super Eagles combative midfielder, Garuba Lawal has questioned the selections made by coach Stephen Keshi for the Nations Cup qualifiers against Sudan next month.
Lawal reacted angrily to some of the players that made the cut for the game. This is against the background of the poor result the team under Keshi posted in two qualification matches against Congo and South Africa. The Super Eagles are in danger of missing out in the 2015 Nations Cup in Morocco, if they fail to collect all six points from Sudan in the double banger next month. Congo and South African are in pole position for qualification.
Keshi recalled Victor Moses and Vincent Enyeama. And despite the glaring fact that he needs goal scorers and creative midfielders, he omitted Uche Ikecukwu and also Kelechi Iheanacho.
Lawal submitted that his captain during his playing days is experimenting with the Super Eagles, rather than call the players who will get the job done.
'I don't know what the Coach thinks, but the way I see it, we keep experimenting. I don't know when we will stop experimenting with players because I believe that if your team isn't working, you change your style but it seems like he wants to hold the country to ransom
'The selection process shouldn't be restricted to a group of players, but should be made open. Nigeria is not just some individuals, but for everybody, but I just don't understand, I just don't understand,'  stated Lawal.
Also former coach of the Eagles James Peters said he was at loss, why Keshi is still snubbing a striker like Uche.
'I find it difficult to believe that  Uche is not on the list again. Honestly I do not know the reason why, but I think given his good form in Spain, he should naturally be in the team.
'Given the situation we've found ourselves in  this qualifying series and the boy's form, I'm surprised he has not made the squad.
I really don't know,' Peters remarked. Vanguard