The Parading Of Suspects Highlights An Abnormal Justice System In Nigeria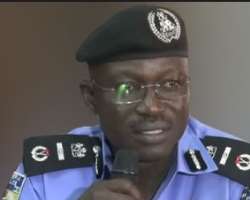 Mr. Suleiman Abba, the new Inspector General of Police, along with other Chiefs of Nigerian security agencies, need to jointly put an immediate stop to the barbaric act and practice of publicly parading criminal suspects allegedly involved in crimes. In recent years, calls by decent-minded individuals and institutions to put a stop to this inhumane, cruel and brutal practice have wholly been ignored by various law enforcement agencies.
The recently retired Inspector-General of Police, Mr. Mohammed Abubakar, sometime ago ordered police units across the federation to stop the practice of parading suspects while they are under investigation as required by the rule of law. Yet, across the 36 states' police commands and the FCT, suspects day in and day out, to the delight of the media, are being paraded by the police, includingthe State Security Service (SSS) officials,when it is obvious that these suspects have not yet had their day in court, and as such,cannot conceivably have beenconvicted by a court of law.
Mr. Abba, in his capacity as a lawyer and chief of police, ought to know that the barbarous act of parading suspects in public even before their appearance in prosecution courts gravely undermine police investigations of the alleged crimes. In addition to the fact that the parading of suspects is unconstitutional and unlawful, it is known in social science research that the parading of suspects is meaningless in terms of serving as a form of deterrence to future criminal acts. It appears that this backward practice is nothing more than a sensationalizedcircus side show by state command heads in their drive for personal popularity.
The Attorney-General of the Federation, Mohammed Bello Adoke, and Chief JusticeAloma Mariam should take up this issue of illegal parading of alleged criminal suspects by issuingsome form of stop order or official ban which all public security agenciesacross the nation must comply with or face huge fines or prosecution themselves.
Along this line, true administration of criminal justice in Nigeria requires collaborative engagement of professional associations in terms of human rights protection, the rule of law and respectable use of power by law enforcement and security forces.
Most essential in this regard is the call for Austin Alegeh, President of the Nigerian Bar Association (NBA), Garba Mohammed, President of the Nigerian Union of Journalists (NUJ), and Andrea Zamani, President of the Nigerian Psychological Association,to help reduce or stop this form of human rights abuseby educating law enforcement bodies and the public.
On a psychological level, the parading of suspects in criminal or civil matters in front of the public or the media is not only a flagrant sign of instant humiliation, direct indictment, unswerving forfeiture of one's human rights, but a clear message that the paraded individual does not have any constitutional rights at all.
Clearly, there are times when the identification of suspects is warranted, which is known as a police lineup or identity parade, but it is supposed to be a highly supervised, private and confidential process by which a crime victim or witness is asked to identify a suspect. Even this type of lineup,known generally as eyewitness identification,is itself marked with a long controversial history to this very day.
In our country, public identification is indiscriminately done. What if that same suspect is bailed out from the police custody? What happens to him or her, especially if the case he or she is allegedly involved in has other criminal defendants yet to be arrested or paraded?His or her life could clearly be in danger, either through murder or even suicide due to fear or shame.
This type of public shame and media trial of suspects could affect judicial authorities consciously and/or unconsciously, as they might have seen the paraded suspect on TV or in the newspapers with a face marked with "guilt and embarrassment" as a result of the undue pressure and guard of the police.
Ordinarily, our system calls for a suspect upon arrest to appear in court and enter a plea as in guilty and not guilty. He or she could be subjected to a period of temporary custody prior to trial or bail. And should the suspect go through trial and be adjudicated as guilty by a magistrate, a judge or a Grand Qadi, or through a plea bargain, if there is any, a criminal conviction would then follow. This could then be the right time to parade the offender, as the person is no longer a suspect but a defined criminal!
But, if at the beginning of the case, the charges are dropped; or, at the end of the trial, the accused is entitled to acquittal and freed, and is, therefore, not sentenced to prison, what then becomes of the stigma of the initial public disgrace or parade by law enforcement officials?As most psychologists will tell you, feelings of shame could be far worse than emotions of guilt. Shame, in itself, is a potent, painful and, generally, a dangerous emotion—especially for those who have been paraded knowing they are completely innocent of the accusation(s), or acquitted of the charge(s).
This barbaric practice is not only a cruel and unusual form of castigation, but on an emotional level, brings pain not just to the suspect, but to his or her family and children, who could equally feel the public shame.
As individuals, we all have feelings in terms of self-image, self-esteem or self-worth, and various destructive consequences of this type of public shame could lead to self-seclusion, domestic violence, substance abuse, road rage, workplace misbehaviors, as well as becoming overly sensitive, and possibly cause him or her to experience other personal and social complications.Also, this type of public shame could lead the person to develop an internalized view of himself or herself that he or she will be mistreated by friends and family, and that he or she no longer 'fit' in the society, especially when they are innocent of the crime. This way of thinking and feeling could lead to a well-constructed violent psyche, as in the idiom "I don't care"behavior in the individual now orin the future. Therefore, it is time for us to end this madness and these unconstitutional acts byNigerian law enforcement and security forces.
Dr Oshodi is a Forensic and Clinical Psychologist and a former Secretary-General of the Nigeria Psychological Association.
Disclaimer:

"The views/contents expressed in this article are the sole responsibility of the author(s) and do not necessarily reflect those of The Nigerian Voice. The Nigerian Voice will not be responsible or liable for any inaccurate or incorrect statements contained in this article."