New Music: Lily Best (@LilyBest54) - Mboro ft Upper X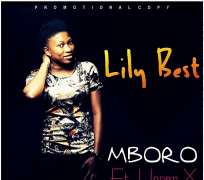 Linda Mathew (a.k.a) Lily Best 21yrs old all the way from Nsit Atai L.G.A, Akwa Ibom State. She is a top talented artiste doing her thing in Calabar the Cannan City.
She has worked with numerous artistes, Producers as well as Club Djs in the city and still counting.
Come to think of it, given it up to her, I so much believe that in a minute; she can turn the impossibility to possible. She is no one else but a celebrity as she is on her way to STARDOM.
The ideology behind 'Mboro' is what we don't know for now, but as we listen to the song maybe we'll get it right so hesitate, hit the download button and hear it for yourself. Connect on twitter: @lilybest54.
DOWNLOAD LINK:
old.hulkshare.com/dl/riqxiigcdhj4/Liy_Best_-_Mboro_Ft.%20upper%20x?d=1