Willie Obiano's Six Months of Excellence in Anambra State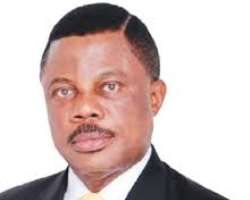 Six months ago when Chief Willie Obiano mounted the saddle of leadership in Anambra State, there was understandable anxiety among Ndi Anambra. The outgoing governor Peter Obi's humble disposition and outstanding performance had left people wondering if anyone else could sustain the tradition of excellence he had established in the state, let alone improve upon it. This is in spite of the former governor's assurances during the campaign days that he was confident that whatever he had achieved in government would be surpassed by the man he had anointed to succeed him.
Now, six months into Obiano's administration, former governor Obi must be nodding his head in contentment, a wry smile clinging to the edges of his mouth. It has become clear to even his most rabid political enemies that his choice of Willie Obiano as his successor was right. In a country where succession has posed the greatest challenge to leadership, Obiano's widely acclaimed great performance in the last six months has firmly validated former governor Peter Obi as a great leader who is not only concerned about the present but keeps an eagle eye on the future.
Six months down the road, the facts of Obiano's stewardship are there for all to see. The ex-banker had signaled his intention to turn things around in Anambra in his prophetically titled inaugural address – Expanding the Frontiers of Excellence. In that document, he had sought to not only expand the frontiers of excellence but to enlarge the realms of possibility. And the facts are here with us in just six months. The most glaring of these facts is that for the first time in living memory, Anambra State has almost attained a crime-free status. For more than four decades, Onitsha, the economic engine-room of Nigeria's South East was a metaphor for crime and unnamable absurdities. People who are familiar with Onitsha can easily recall the era of the first and second Boys Oh Yeahs down to the Bakassi Boys days, the Derico days and a host of other regimes of the underworld in Onitsha. These periods in history made Onitsha synonymous with violent crime, stripping it of the promise it once held as the literary publishing capital of West Africa which it firmly established with the era of the once famous Onitsha Market Literature. For close to four decades; Onitsha was an anathema of sorts; a taboo to decent folks. But Obiano's Operation Kpochapu has changed that narrative in just six months.
In a recent encounter with Engr Emeka Okwuosa, an oil magnet and a prominent indigene of the state, he calmly observed that "what Ndi Anambra need is security. Give us security and leave the challenge of developing Anambra State to us." It would seem that Governor Obiano had this in mind before he assumed leadership of the state. He figured out that if he could fix Anambra's security worries, then everything else would follow. He also knew that without a secure Anambra, his Four Pillars of Development (namely, Agriculture, Industrialization, Trade & Commerce and Oil & Gas) for Anambra State would amount to nothing. And now that he has found the formula for cleansing Anambra of crime and criminals, the outcome has been quiet impressive.
It is indeed remarkable how, Obiano's vision has started to show so early in the life of the administration. One of the earliest signs of what could happen in the New Anambra State under Obiano is the massive investment inflow that the state has witnessed in the last few months. On April 14 this year, the Anambra State Investment Promotion and Protection Agency (ANSIPPA) came into being when the bill proposing it was signed into law by the Anambra State House of Assembly. In a very short time, the agency has justified Obiano's background as an investment banker with statistics his fellow governors would envy. On September 8 this year, ANSIPPA received its first approval from the Anambra State Executive Council to sign seven MoUs with prospective investors that will change the investment landscape of the state. Over the next couple of weeks, ANSIPPA will sign MoUs across key sectors like Agriculture, Tourism and Transportation that will attract a total of $382m (N62.3bn) in investments to Anambra State. On Friday last week, the agency signed two MoUs with Joseph Agro Industries Ltd and Cardinal Developers Trust Ltd valued at $220m. ANSIPPA estimates that by the end of December this year, Anambra would be $1.5bn richer in investments arising from another five MoUs that are in line to be signed. In all, the body has received over 120 proposals from investors who have shown serious interest in doing business in Anambra State. Obiano has done all these in just six months. What will be the investment outlook of Anambra state in four years?
Already, one of the investors, Coched Farms Project, a subsidiary of the Coscharis Group has moved into the state. It has rented an office along the Enugu-Onitsha Expressway, hired some workers and mobilized to its farm settlement in Anaku. At the moment, Coched is bringing in improved varieties of seeds from different parts of the world and testing them to establish which variety is most suitable for the soil of Anambra State. On its part, the state government has moved in to build the capacity that would support the impending agricultural revolution. Accordingly, the state has successfully midwifed the formation of 1,874 cooperative societies that will catalyze the revolution. The members of these cooperatives will be trained and prepared in modern technics of mechanized farming. The Ministry of Agriculture has acquired 100 tractors for the same purpose while arrangements are on to acquire more land for large scale farming.
Obiano's giant strides in agriculture are understandable. Agriculture is one of the pillars of his administration. But the governor has shown as much hunger for success in other areas as well. Another remarkable feat is in the area of Internally Generated Revenue (IGR) which has increased from an average of N700m that the administration inherited to an impressive N1bn at the moment. Knowing how averse the people are to the payment of taxes and levies, the marginal increase in IGR in the period under review is quite significant and commendable.
The governor has also shown a lot of foresight in the way he has handled Trade and Commerce, another pillar in his economic blueprint for the state. The overall vision for the sector is that Anambra should be among Nigeria's top-3 in trade and commerce and among the top-5 industrialized states in the country. To achieve this, the administration is at the verge of setting up three ultra-modern markets in Ogbunike, Umunze and Awka respectively. At the same time the partnership with the Organized private Sector (OPS) has resulted in the formulation of a 10-year Industrial Revolution Plan for Anambra State. On completion, these markets will shoot up the revenue base of the state and create more headroom for the growth of the local economy.
As is the case with security, the governor is also fully aware that without tackling the challenge of power supply head-on, his industrial vision for Anambra State would remain a pipe dream. As a result, he set up a Special Committee on Power Supply headed by Mr. Chike Okonkwo who came highly recommended as the leader of the Distributing Power Business of General Electric Company in sub-Saharan Africa. He charged the Committee to "Provide an accurate estimate of current power supply, consumption and projected demand in the state across various consumer groups and recommend suitable power generation and supply solutions, taking into consideration, Anambra State's climate, environment, landscape and scale of development." The Committee has nine months to prove its relevance. The governor also set up special committees on other key areas including Oil & Gas, Education, Agriculture and Vigilante groups among others.
Obiano has made tremendous progress in the area of building consensus among the citizenry. His recent tour of the 21 local governments attracted huge crowds at every stop to underscore his soaring popularity. His consultation with the various stakeholders has been extensive and thorough as he reaches out to traditional rulers, corporate moguls and kingmakers across the state to deepen democracy and encourage participatory governance.
He has also kept an eye on the software of governance. At the event marking his first 100-days in office, the governor launched a new cultural identity for Ndi Anambra which came complete with an anthem, an emblem, a flag and a set of moral values that will keep Ndi Anambra on their toes. He is obviously aware that just about any governor can build roads and bridges but it takes a focused and pragmatic leader to attempt to rebuild the moral and socio-cultural fabric of any society.
Now, people have always cautioned that it is too early to sing Governor Willie Obiano's praises. While that may be so, one wonders how else to react to anyone who puts up his kind of performance in just six months.
Eze, writes from Ifite, Awka