Boko Haram: Muslims, Christian are being killed but this isan agenda to Islamize Nigeria -Catholic Boshop of Maiduguri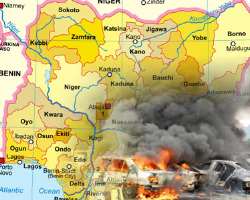 The Catholic Bishop of Maiduguri Diocese, Rev. Father Oliver Dashe Doeme has said that in the last one month, the intensification and aggressive devastation of the Boko Haram activities in the North as well as the brutality and callousness with which people are being killed can only be compared to that of the ISIS in Iraq and Syria.
The Bishop in an electronic statement made available to Newsmen in Maiduguri, the Borno state capital observed that, many of people are being forced out of their ancestral homes, villages and towns. "Right now, thousands are living in caves, on the mountains and in the forest; the few who were able to escape are being absorbed by friends and relatives in Maiduguri, Mubi and Yola. Thousands have managed to escape into Cameroon and are living under very difficult conditions of lack of food, shelter and medication.
"What is very worrisome and discouraging in the whole scenario, is the attitude of the military whom we mortgage and depend on for security.
In the face of these attacks, they flee and ask civilians to do the same. There is no doubt that the morale of Security men and women is at its lowest ebb in the Northeastern part of Nigeria." He added.
According to the Cleric, the level of sophistication and capabilities that the terrorists have attained within five years is very revealing and scary, stressing that the mastery and tact with which they fight is unequalled to the Military.
He said, their resilience can be compared to that of trained Marines."That is why they are able to over-run towns and villages almost unchallenged. They can boast of Armored tanks and APC, rocket launchers, Anti Aircraft and Anti Tank Destroyers, Sub-Machine guns, new and latest guns, AK 47 and an inexhaustible boxes of ammunition and bullets.
"While I refused to believe a single narration of this reality because both Christians and Muslims are being affected, both Christians and Muslims have been killed; both Christians and Muslims have been driven out of their ancestral homes, villages and towns, Christians and Muslims have been Internally Displaced and are refuges in their own home state, there is still religious under-tone to this whole mess.
"We might shy away from it, we may be silent and unable to speak up or speak out now against the plan to Islamize the Northeast and eventually Nigeria. But what we are witnessing in Northern Adamawa is a clear confirmation and the unfolding of this agenda. But I am speaking as a leader and shepherd of the Catholic Diocese of Maiduguri and how much destruction and devastation we have seen and are still going through.
"The almost inaction of the government, the lukewarm attitude and the silence of the government is very disturbing. There is a total disconnection between what our so called leaders in Abuja report in the media and the reality on ground. We wish they have the courage to fly into these areas and see things for themselves.
"Our people are dying every day and in most cases with no one to bury them decently, they are left to rot; their homes and property looted; they have become slaves and prisoners in their fatherland, here is a government that cannot safeguard the lives of its citizens and indeed life has become so cheap that it can be wasted any moment. We use to think that salt is the cheapest commodity in the market, well, life is cheaper now especially in the Northeastern part of Nigeria." He stated.
Rev. Father Dashe also said, "whatever conspiracy theories there are about this whole issue of Boko Haram insurgency,the sponsors of this delta force for killing and their sympathizers; the bottom line is that the government and our political leaders have failed us and we have lost total trust and confidence in our government and our leaders.
"Imagine, in one of the Northeastern States, people are being killed and slaughtered, politicians were busy organizing for primary elections, probably to come and rule over monkeys and apes after the people have been killed and wiped out.
"It is only in Nigeria that politics is more important than human lives and security. The total disconnect and insensitivity of our leaders to the plight of their citizens betrays the Africanness and the Nigerian spirit in us and we must all bury our heads in shame at this moment in our history. Are we really our brothers and sisters keepers?" The Cleric asked.