Owerri Zone: Asoluka unveils mission statement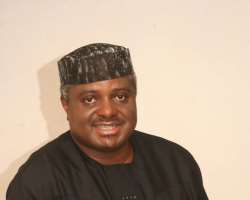 In preparation to the 2015 general election, leading Senatorial aspirant under the Peoples' Democratic Party (PDP), Chief Dr. Chris Asoluka has unveiled his mission statement, encapsulated towards offering his Party and the good people of Owerri Zone quality and impactful representation they truly deserve.
In a release, the Ihiagwa-born orator charged the leadership of the Peoples' Democratic Party (PDP) to rise to the task of fielding in quality candidates with character, competence, chemistry, and capacity of winning elections at the grassroot levels, as it will challenge the people to cast their votes rightly.
Of significance to the fortune of the Party being Owerri zone, Dr. Asoluka who is an experienced and sound policy strategist noted that the Party can ill-afford to lose the zone in the next year's general election added that, "the perception is that Owerri zone is the heartbeat and barometer of Imo politics and its possible electoral mood and swing."
"Therefore, being a very discerning, sensitive and critical constituency, no party can gamble with its choice of candidate without suffering severe consequences. To my respected delegates, our party cannot adopt a business-as-usual approach in the 2015 general elections. Winning the Owerri Senatorial election sets the stage to unseat an incumbent governor who has a huge war-chest and an unenviable record of disregard to law and order."
However, he stressed that the Party can only win through a tenet means of fielding credible and popular candidates with capacity to clear the votes. Conscious of this fact, this seasoned administrator and public speaker stated that they must owe it as a duty to present a winning team for all the positions in the coming general elections.
Seeking the mandate of his Party, Okwuruoha as a legislative capacity builder opined, "I have overtime shown great discipline, character and commitment; I have as well subordinated self-interest to group interest and have kept faith with Party decisions even at personal discomfort. I have sufficiently prepared myself and do possess proven capacity, contact, reach and record of resourcefulness, especially in providing solutions to problems."
"I have gone through the mill of service to God, community and Igbo causes, of which for example, served as founding Secretary-General and later President of Aka Ikenga and National Vice President-General of Ohanaeze Ndigbo. On that, I am a ranking member at the National Assembly who will be entitled to all opportunities and privileges such membership confers without any setback, and as such will be able to hit the ground running," he stated.
Chief Chris Asoluka as a son and leader of Ndigbo at a professional level has scored numerous feats, which through community and social works been part of various efforts to promote understanding, unity and development among his people.