Empowerment; An Alternative To Curb Unemployment In Nigeria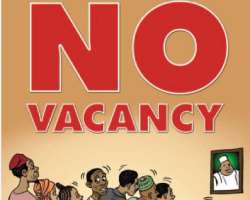 If one were to agree with the National Bureau of Statistics (NBS) and her release of the national unemployment data for Nigeria between 2000 and 2009 which showed that the number of unemployed persons constituted 31.1% in 2000, 13.6% in 2001, 12.6% in 2002, 14.8% in 2003, 13.4% in 2004, 11.9% in 2005, 14.7% in 2006, 14.6% in 2007, 14.9% in 2008 and 19.7% in 2009, then a lot of questions will be needing answers. But that is for another day. I write this as someone who agrees with the statistics detailed above.
The International Labour Organization (ILO) asserts that unemployment occurs when people are without jobs after they have actively sought for one within the past four weeks (ILO 2007). Closely linked to unemployment is Poverty. Poverty is an abject state of being, in which an individual is incapable of utilizing resources around him to improve himself or herself economically, socially, politically or otherwise.
Poverty and unemployment are societal problems that have persisted and proven themselves to be major developmental challenges in Nigeria for a very long time. The menace of poverty and unemployment has atrophied virtually all nations of the world in diverse proportions and shades.
Unemployment in Nigeria has gone full circle. The degree of concerted efforts by governments and well-meaning individuals alike lends credence to this fact. Numerous schemes, programmes and concepts that have been put in place to cater to much ravaged groups such as the youths, women, the aged, etc. These schemes are all clothed in the garb of "development and empowerment programmes."
In fairness, development and empowerment have been recognized as vital phases in life necessary for the emancipation that allows people to avoid poverty and live better, and possibly have a more fulfilling life. This also helps to ensure that those who are empowered are well prepared for their future and well-equipped to make better life and economic choices.
The charge of nation building is a very challenging one and it is always done in phases. Everyone can contribute towards it according to his or her capabilities. One individual currently doing his share of this collective charge is Senator 'Gbenga Ashafa. Senator Ashafa is currently representing the Lagos East Senatorial District in the senate.
Having being elected in 2011 after an honorable time of service as the Permanent Secretary of the Lagos State Lands Bureau, Ashafa is no stranger to development and empowerment. It would be safe to say that he developed an empowerment manual himself if this quote credited to him is anything to go by: "At the heart of my empowerment scheme is a burning passion and urgent need to diversify, strengthen and deepen the industry with the largest employment-generating-opportunity in our economy, the informal sector".
Ashafa's journey into empowerment is one that cannot be told in a hurry. His careful analysis of the rapidly declining opportunities that abound in the "white-collar" job market kept him awake most nights. He saw empowerment programmes as a viable alternative because of its impact on the youths who trooped into Lagos state from all corners of the country in search of white-collar jobs, especially, the graduates.
His empathy stems from his understanding of the psychological implications of such an elusive hunt: trauma, anger, frustration, low self-esteem, negative life satisfaction, unhappiness and mental disorder including depression and acute stress.
The most disturbing aspect of this is the backlash: Criminality. The worst thing that would ever happen to a nation is for her educated citizens to be involved in crimes. If the unschooled are mostly involved in vicious crimes, the educated are involved in non-violent crimes which are worse in magnitude and scope than the violent crimes; and they have greater consequences and impact on the socio-economic progression and administration of such a country.
Since 2011 till date, Senator Ashafa has carried out his empowerment programmes under the Gbenga Ashafa Endowment Trust (GATE) and his Weekly Empowerment Programmes. GATE happens to be the philanthropic and charitable platform through which most financial aid is given to his constituents and other deserving recipients; while the Weekly Empowerment Programmes, having debuted in February 2013, is akin to a silver bullet that addresses the question of entrepreneurship to its very core.
At the empowerment programmes which have been holding every week, traders and artisans are invited to the constituency office to receive all manner of tools and equipment relevant to their work. Such tools and equipment include Refrigerators, Aluminium Cutters, Welding Machines, Vulcanizing Machines, Hair Dryers and Salon Accessories, Sewing Machines and Tailoring Accessories, Car Batteries, Car Tyres, Generators, Baking Equipment and Confectionery Accessories, Phones and Airtime Vouchers, Chairs and Tables, etc. The list is ENDLESS.
However, it is interesting to note that since most programmes and policies put in place by government officials are geared towards reduction of poverty and unemployment level, and orchestrated via massive empowerment agendas, such schemes are always rendered ineffective because they are often used by those in charge of the programmes to "settle" their political thugs and clients.
This is where Senator Ashafa's empowerment programmes clearly differentiates itself and sets the bar for others. The presence of standardized procedures and conduction of due diligence on all potential beneficiaries could adequately be said to match the processes involved in the operations of most social intervention programs and donor-funded humanitarian aid programs in the country.
Unemployment is one of the macro-economic problems which every responsible government is expected to monitor and regulate. The higher the unemployment rate in an economy, the higher the poverty level and associated welfare challenges. It doesn't take a mathematician or sociologist to figure that out. Senator Ashafa is neither of the two. He is, and always will be, one of those people often termed a "rare breed" of men that have walked the earth. Other self-motivated individuals can borrow a leaf from the senator and his activities at http://www.gbengaashafa.com
Best Regards
Babatunde Adegunju.

Disclaimer:

"The views/contents expressed in this article are the sole responsibility of the author(s) and do not necessarily reflect those of The Nigerian Voice. The Nigerian Voice will not be responsible or liable for any inaccurate or incorrect statements contained in this article."