Central African Republic: Resumption of Operations at Embassy Bangui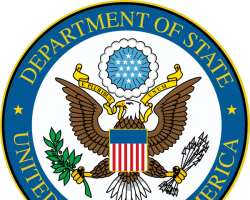 WASHINGTON, September 15, 2014/African Press Organization (APO)/ -- Press Statement
John Kerry
Secretary of State
Washington, DC
September 15, 2014
I am pleased to announce that we are resuming operations at our embassy in Bangui. The people and leaders of the Central African Republic have made progress in ending the violence and putting their nation on a path toward peace and stability. But we all know that much work remains to be done.
That's why I asked David Brown to serve as Chargé d'Affaires and to work closely with the transitional government, as well as our international friends and partners, to advance a peaceful, democratic and inclusive political transition. And that's why, on his arrival in Bangui, we announced an additional $28 million in U.S. humanitarian funding, bringing the U.S. total to $145.7 million this year alone.
With the September 15 transition to the UN peacekeeping mission, MINUSCA, we extend our profound thanks to the African Union, its force-contributing countries, as well as the French and European forces, for their important contributions to peace and stability in the Central African Republic. We call on all parties to fully support the UN mission in its vital task ahead as it takes over from the African Union mission. And as we reopen our embassy, I want to thank our dedicated Central African colleagues for their service during these difficult 21 months.
Only a fully inclusive, peaceful, and democratic political transition process can stop the cycle of violence in the Central African Republic. That process must include the voices of all Central Africans, especially refugees and internally displaced persons. It must end impunity and give all citizens access to justice while holding those who have committed abuses accountable for their actions. And it must lead to free and fair elections that give all Central Africans a stake in the future of their country.
The Central African Republic and its people are at a crucial juncture. The United States is determined to help make this moment of opportunity a success.