Pregnant Nuella Njubigbo Storms Mercy Johnson's Baby Shower In America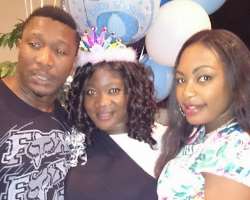 Last weekend, one of the most loved Nollywood stars, Mercy Johnson-Okojie had her baby shower in far away United States of America, where she has been for some weeks now.
Recall that on August 27, 2014, the actress marked her third year in marriage. In 2011, against all odds, Mercy Johnson had an elaborate wedding ceremony in Lagos with her Edo State-born businessman husband, Odi Okojie.
Present at the baby shower of Mercy Johnson in the US last week was controversial actress, Neulla Njubigbo, who was accused of wrecking the marriage of fellow actress, Sophia Chikere to Nollywood producer, Tchidi Chikere.
Nuella finally got married to Tchidi some months ago after several rumours that they were dating. The actress, who is now pregnant, attended the event with her husband and both were looking fabulous.
Mercy Johnson is expected to be delivered of her second child.