ANAMBRA CENTRAL SENATORIAL QUEST ,MY PERSPECTIVE DAY 2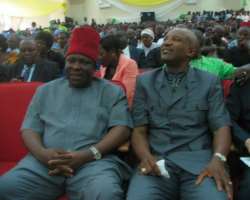 SIR VICTOR UMEH , I plead with you, invoking the name of whatever you hold sacred to please have mercy, the manner which you move this days is a great concern for any Apga member and ndi Igbo.
Last time at Abuja airport you blatantly and arrogantly refused to be checked for Ebola virus which will cost you nothing but add security and respect , a measure that was put in place to arrest the menace imported from Liberia, and because you refused to be checked all your disciples followed in the stead , making APGA look like association of outlaws.
It is a big shame to have a leader behave in such manner and in public place and in full glare of the Electorate , same people we will be asking for votes for APGA flag bearers , they May judge candidates with the display of the leader.
During the day wake for Late Prof Dora Akunyili at women development centre Agu Oka in Anambra state Nigeria , I was still trying to recover from the childish tantrum you exhibited when you were called to eulogise Prof Dora Akunyili which you turned to campaign flag off and bullying of Dora , when you said that DORA was playing saboteur,that she was calling you to give you her support against PETER OBI, according to you , when you were fighting with Obi.
I consider it childish to taunt and lie against the dead but that is for the death to judge.
The most nausing part is what you did after the event, when the Governors convoy left, your driver was forcing self to join the fleet but owing to vast vehicles present , the police were trying best to direct traffic to make sure there is free flow but your driver deliberately used your vehicle to hit the policeman that stopped your convoy, never mind that he is a very high ranking police officer, while the police officer were getting angry for the assault, you jump out from your SUV, rush down to fight him or wrestle him ?, the speed which you jump down from your vehicle and rush the officer , had people not applied restrain on you , would you have head butted the officer or lift him up and slam him to the ground ? Eightier way I would've feared that the policeman would've done something with his gun , but all in all , please you are representing a party and the party represents Ndigbo, if you keep behaving like a tout , the party will always be looked down upon.
Sir, since you are pursuing a mirage in political pursuit ,i will suggest you try and be more of a man , so that electorate may find a little reason to think of voting for APGA candidates.
Sir Victor Umeh you,ve shown that you can change with the wind ,first you were sweet with Gov Obi and when Rochas came in with hot pot of money you switched allegiance with speed of a bullet and when Rochas started showing you that two CON MASTERS cannot work on same Con ,you switched over to IFEANYI UBAH and when you finished milking that young man ,you switched over to SOLUDO and taught him some lessons in political ashaworism ,Then stepped over to Ekwunife that was after Nicholas Ukachukwu, then finally you switched back to Gov Obi and at the twilight end of his tenure you quickly switch over to the new Governor Obiano and you are busy sowing seed of discord and hatered between OBI AND OBIANO and you did not mind that okwuru adiro aka onye kuru ya,not na alaigbo because okaria ya ,you simply bend the okra and reap the fruit and it must obey .why are you busy trying your might to make sure that both of them are living with conflict ,so that you will be reaping the dividend as okwobe ekwobe obanyelu onye aghugho and also ala adighi nma bu uru ndi Nze.
What beats me silly is, why is Gov Obiano not seeing you for what you are doing to him ?,imagine he is getting enemies faster than EBOLA just because you are making sure you are bad advising him.The worst mistake was the ticket he gave you against the norms of APGA ,not even with a cook up convention ,and you accepted ? had another person tried that in APGA ,i am sure you would,ve cried blue murder and will be at APPEAL court demanding heads and blood.
Sir,you held the position of APGA NATIONAL CHAIRMAN,NATIONAL WORKING COMMITTEE,NATIONAL EXCO ,TREASURER,PRO and you are also the state EXECUTIVE CHAIRMAN , you signed the Forms of the last Local Government election in place of Akunwata Kwentoh and what baffled me is that no member of APGA asked why should you usurp the function of all the National officers and then move down and usurp that of the State ?
But Honestly ,i will advise you to quietly and humbly stay out of this senatorial race before umuazi abua ego gi ka Tom Tom and as for ida that election,i can wager with anybody na igaghi agbata 3rd position.