PDP Is Best Party To Salvage Nigeria - Adeyeye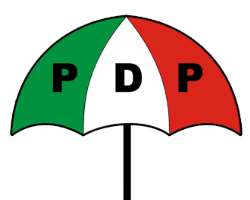 Minister of State for Works, Prince Adedayo Adeyeye has described the Peoples Democratic Party (PDP) as the best party to salvage Nigeria, saying the opposition All Progressives Congress (APC) is just a party of propagandists, who do not have anything meaningful to offer Nigeria and its people.
Adeyeye, who was speaking in Lagos on Saturday, during a Dinner organised in his honour by the City People Magazine said; "Just imagine the security agencies in the hands of these APC people, they will be killing you and the people will be praising them because they have the propaganda machinery in their hands."
He said the Yoruba people of the Southwest Nigeria will be freed from the APC lord, whom he said sees himself as an emperor that must be worshiped.
"There are some evil forces in this Southwest that we must not allow them to expand. We know the way they are treating this place as a conquered territory and next year election by the grace of God, we are going to roll them away," Adeyeye said.
Speaking further, the Minister said; "What better governance can the APC offer Nigerians? Is it the one in which a single individual sits in his bedroom in Lagos and determines who becomes a councilor in Igbo-Ora, Ogbomoso, Ilaro, Ijebu-Ode, Suleja, Kafanchan, Ikot-Ekpene, Asaba, Onitsha or Sokoto?
"We in Ekiti have freed ourselves from this political merchant, and I am sure other States will be freed in 2015."
Describing President Goodluck Jonathan as a true patriot and democrat, whose passion for the development of Nigeria is legendary, Adeyeye said; "Now we can see Lagos-Ibadan Expressway constructed 38 years ago being reconstructed, Benin-Ore road has been made motorable, Second Niger Bridge is being constructed, East-West Road in being done, construction of Abuja-Lokoja road is going on at a very fast space, Ilesha-Akure road is being reconstructed, rail transportation is being revamped among others."
Speaking at the event, the publicity secretary of Pan- Yoruba Socio- Cultural group; Afenifere, Mr. Yinka Odumakin, saluted Adeyeye's courage; saying, "One thing I admire in him is his tenacity and never-give-up spirit.
In 2003 that Adeyeye was the only AD Senatorial candidate to lose, somebody sold that election. The person believed that with Adeyeye as a senator, it will be a threat to his second term bid. But that person never got a second term."
Also speaking, the Alliance for Democracy (AD) candidate in the 2007 Osun state governorship election, Chief Tunde Odanye extolled Adeyeye's virtue, describing him as someone who is stubborn concerning whatever he believes in.
"Dayo is my friend, he is my colleague. I don't know who is the most stubborn between him and myself because he is Ekiti and I am Ijesha. Whatever he believes in, he pursues it stubbornly," Odanye said.
In his own remark, Chairman of Afenifere (Europe) Abagun Kole Omololu said; "I became an Afenifere person through Adeyeye. He a Yoruba man to the core and wqhen a Yorubaman believes in something, the believe is in totally. That is Adeyeye for you. When he was Afenifere Spokesman, he made Afenifere known throughout world."
Publisher of City People Magazine, Dr Seye Kehinde said the event which was graced by newspaper Editors and other top media practitioners, was organised to celebrate Adeyeye, whom he described as a shining example and an accomplished journalist.
Contact me on 08034671763