Miss-K Has An Audience With Nigerian Mayor, Councillor Adedamola Aminu!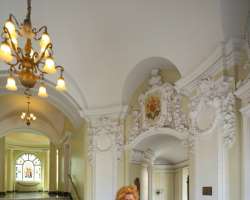 Miss-K has had an audience with London's Lambeth Mayor, Councillor Adedamola Aminu for an official meeting, to discuss some up-coming projects,on which Miss-K is keeping her lips sealed.
The Afro-Caribbean Singer and Brand Ambassador, spent 1 hour canvassing at the Mayor Town hall office.
After further investigation,we heard, the meeting went to perfection.
Miss-K shone bright like a star in a drop-dead gorgeous white designer dress.
When Miss-K makes her official appearances, you're almost always in for a jaw dropping moment, and this is nothing less.
The knee length, white dress with an embellishing zipper on the neck line,and a black lather belt embracing Miss-K's magical curves down her waist, makes this dress "pure class".
And we expect nothing less from Miss-K. She, indeed knows a thing or two about elegance and statement making.
She is the epitome of glamour, and this dress, although conservative, offers up lots of star quality.
Additionally,Miss-K posted pictures of herself showing off her white designer dress, while enjoying the view from her executive suite, at the 5 Star hotel where she has been staying at,specially for London fashion week.
Take inspiration from Miss-K's look for your next big meeting,which will make you look rather amazing !
Thank you

IMG 3712 MISSK& MAYORLAMBETH
PICSART 1409914425632
PICSART 1409915180236
PICSART 1410032265211
PICSART 1410032382150
PICSART 1410037010798