Oscar Pistorius found GUILTY of manslaughter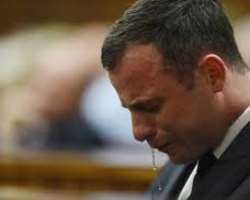 Oscar Pistorius has been found guilty of manslaughter over the Valentine's Day shooting of his girlfriend.
Earlier, he was convicted of firing a gun in a crowded restaurant but cleared of a second firearms charge in which he was accused of firing a gun through a car sunroof.
At he arrived at court, the Paralympian was surrounded by bodyguards as he pushed his way through the throng of media to get inside the Pretoria High Court.
The double-amputee sobbed yesterday as he was dramatically cleared of two murder charges over the Valentine's Day shooting at his home in Pretoria last year.
But judge Thokozile Masipa had hinted the 27-year-old may be convicted of a lesser charge of culpable homicide after describing his actions as 'negligent' on the night she died.
Click the link below to go to...
Ali Baba Roots For 'Comedy Branding'
I Owe my Ex-Keturah Hamilton A Debt I Can Never Pay For Life……..Jim Iyke
Is Yvonne Nelson A Natural Beauty Or A Make Up Beauty?
Nollywood Actress, Elizabeth Anjorin Relocates
I'm Used To Ladies Embarrassing Me—Arinze Okonkwo
Homos Are Not Safe In Nigeria--Aderonke Apata Yells
UNILAG Students Bagged A PhD At Age 24
Branding Nollywood: Actor, Fred Amata Gets New Appointment