WILLIE OBIANO: SUSTAINING OBI'S GAINS - RE-POSITIONING ANAMBRA STATE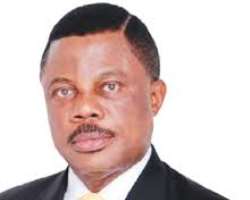 It is an undisputable fact that Anambra State is the most endowed State in the South East of Nigeria in the area of human resources and human capital development. It is innumerable to mention names. The latest entrant into the leadership hall of fame in Anambra State as well as the entire South East region is the phenomenon known as Willie Obiano, the present Executive Governor of Anambra State. Prior to his emergence as the governor, not much was known of him in the political arena. His community and surrounding communities could testify of his humanitarian and philanthropic gestures to the people. He was however a very well-known player in the corporate world, working his way to the top.
As soon as he was sworn in, Gov. Willie Obiano set out a work- template for Anambra State. His vision is to see Anambra State fully established as Nigeria's first choice investment destination and a nerve- centre for industrial and commercial activities. He further drew a road map through which he will transport his vision. His administration will create a socially stable business and friendly environment that will attract both indigenes and foreigners to seek wealth creating opportunities in Anambra State.
The new train of development in Anambra State will have on board, four pillars of development, comprising of agriculture, trade and commerce, oil and gas and full scale industrialization. A new agricultural revolution with greater emphasis on mechanized farming will usher prosperity to the people. Government collaboration and support of big agricultural investors and Cooperative farmers will drive the new agricultural era. Introduction of improved seedlings will give agriculture a new productivity value. Trade and commerce will witness a new face with construction of world- class markets and shopping malls. The Orient Petroleum will be greatly supported, especially in the area of infrastructure. The road leading to the complex will be re-habilitated.
Governor Willie Obiano has sustained and even improved the security of lives and property in Anambra State. Operation "nkpochapu" (clearance) has yielded more positive results than expected. Kidnapers, armed robbers and other criminal elements have seen the signal and relocated elsewhere. That precisely is the reason for a re-juvenated night life in Onitsha, Awka and other emerging urban cities. In the atmosphere of peace and security, every other seed of development will comfortably blossom.
Ongoing road construction will be completed while new frontiers targeting agro based communities will be opened up. The health sector will see a tremendous upgrade while the missionary hospitals will receive deserved government support. His Excellency passionately believes that a healthy people will bring about a wealthy state. Tourism as an economic developmental partner will be re-engineered. Private sector driven tourism initiatives will be encouraged and supported by the government. The Ogbunike cave resort might be the latest national and international tourist destination centre in Nigeria. The improvement of the state capital which has already commenced will be concluded with a re-definition of Awka as a deserving state Capital. Willie Obiano thinks that he cannot go the length he sets out without the full support and co-operation of Anambra State workers. He has concluded plans for mass housing projects and other welfare packages for Anambra workers. Private estate developers will be encouraged in a joint effort to provide the much needed accommodation to the masses. Governor Obiano's determination to open up more industrial clusters and terrain around Onitsha and Nnewi axis, according to his media aid Mr. Emeka Ozumba, will drastically reduce unemployment situation in the state.
Governor Willie Obiano, a leader with defined vision and mission is poised to take Anambra State to the next enviable developmental level. Many Ananbrarians are already upbeat on the new era of governance.
Disclaimer:

"The views/contents expressed in this article are the sole responsibility of the author(s) and do not necessarily reflect those of The Nigerian Voice. The Nigerian Voice will not be responsible or liable for any inaccurate or incorrect statements contained in this article."